Google Ads
How to use Google Ads for Your Business? [Guide]
Google Ads is an advertising system developed by Google to help businesses reach their online target market through its search engine platform and partner sites. These partner sites display text or image ads on the page after users search for keywords and phrases related to the company and its products or services. On Google.com, Google ads typically appear in specific locations at the top and right of search results pages.
---
Why you should use Google Ads?
Google Ads can help you drive more customers to your website, expand your sales network, get more calls, or encourage visitors to return to your website.
You can hold the maximum reach of the target market and select a country, region, metropolis, or close proximity to your institution and create a range of technologies daily, weekly or monthly.
Reliable & Effective Ad Targeting
Targeting gives you the ability to point out your ads to achieve folks with specific interests and show them relevant ads.
Control your costs
Google Ads gives you management over how you spend your money. And you will be able to decide what amount you spend per month, per day, and per ad. You'll solely pay once somebody clicks your ad.
Easy Management
For easy management & observation of varied ad accounts, Google provides you with a large array of tools.
Measure your ads
Perhaps the biggest and most significant thing about running Google Ads is that your all efforts are measurable and scalable. You'll get valuable insight into how your ads perform.
---
Common Google Ads Terms to Know
Before you start with Google Ads ads, you must know the following terms.
Google AdWords Ad Types
Google Search Network (GSN)
It is the display of your ads to users who search on Google Search Network (Google search, maps, images, and videos) or Google Search Network partners pages. A listing like similar sites in search results with specified keywords is called Google Search Network ads.
Google Display Network (GDN)
It is the event that your website's banner and logo of different sizes are displayed in the advertisement areas of various websites. Ads that cover Google websites (like Google Finance, Gmail, Blogger, and YouTube) are called Google View Network ads.
Search Network with Display Select (SNDS)
A GDN-backed campaign that diverts the budget to the Google Display Network (GDN) instead of spending the Google Search Network (GSN) budget for advertising is called Display Option Search.
Google AdWords Metrics
Cost Per Click (CPC)
Cost per click is the budget to be paid per click on the given ads. It also refers to the amount to be paid per click of the keywords used in the ad.
Click-Through Rate (CTR)
The ratio of people who clicked on the ad to those who viewed the ad. A low click-through rate indicates that something is wrong with the ad. The higher the Click-through Rate, the better.
The formula used to calculate 'Clickthrough Rate' is as follows:
Clickthrough Rate = Clicks / Impressions
Cost Per Mille (CPM)
It represents the cost per thousand impressions. Cost per thousand impressions is among the bid strategies created within the ad. GDN is the bid strategy.
Quality Score
It is numerical data from 1 to 10 given to keywords by Google to evaluate the quality of ads. 'Quality Score' factor is effective in ordering and displaying advertisements in order to show relevant advertisements to users. A low-quality score may prevent your ads from receiving impressions. There are 3 main factors that affect the quality score of the keyword of the ad.
Expected clickthrough rate
Ad relevance
Landing page experience
Conversion Rates (CR)
It is the display of how many people visit your website and how many of the people, who visit the website, buy the service offered on the website as a percentage (%). For example, 100 people visit an e-commerce site and 7 of these 100 people shop from within the site, the conversion rate here is determined as 7%. It is also valid for a valuable conversion action that you specify outside of the sale.
---
Does it work for Small Businesses?
In a word, yes. Google ads work for small businesses and very good results can be obtained. Plenty of small business owners is finding success in generating sales and leads by using Google Ads.
Paid ads are a great method for businesses to extend whole awareness, get a lot of traffic to their website, and generate more sales, all whereas having the ability to trace the results.
With the widespread use of the Internet and the development of technology, the number of advertisements given in digital media has increased. In this context, one of the most popular advertising platforms has been Google. Google is the most important search engine used by people today. In addition to this feature, Google has become the new advertising platform for those who will advertise. In other words, Google has acted as a bridge between those who want to buy and those who will sell. Google offers a wide range of marketing areas to its users with Google Ads.
With these advantageous features, Google Ads has become a digital advertising model that brands use in their sales-oriented marketing efforts. Google provides many advantages to businesses with its services. The low cost and fast recycling advantage that Google Ads provides to companies is one of the biggest features of Google's popularity in advertising.
You Can Provide Brand Awareness
With the Google ads you create, you can enable users searching on Google to find and discover you. You can attract new visitors to your website and increase your internet sales with the advertising activities to be done. You can also increase the interest levels of your existing customers with your ads. Thus, you can create brand awareness for your business.
You Can Reach Your Customers On The Internet
Thanks to Google Ads, you can go one step ahead of other websites related to your industry on the internet. In this way, you can reach your customers who are interested in your sector. You can reach your potential audience by targeting according to your audience type or remarketing with the options you will create when starting advertising campaigns.
The Upside Ad Creation Advantage
Google Ads are the target and result-oriented campaigns. On the other hand, there is an existing target audience searching for purchasing on Google. Google Ads allows direct advertising activities for this target audience. This reveals the ability of Google Ads to advertise for sales.
Low-Cost Advantage
One of the biggest advantages of Google Ads is undoubted that it offers the opportunity to advertise at a low cost. This allows all companies, both large and small, to advertise on Google. In this way, the affordable advertising methods offered by Google are frequently preferred by businesses. You can publish your ad on Google for the amount you specify.
Controllable Cost Advantage
One of the biggest advantages of Google Ads is that it can be advertised at an affordable cost, as well as its ability to control advertising costs. You can set an upper limit for your advertising campaign with the budget you set beforehand. In addition, you can stop the ad campaign that you started instantly and start it again later. With it, you can increase or decrease your budget. The fact that instant changes can be made in the cost calculation is a plus for advertisers.
Create Targeted Advertising Campaigns
You can create your ad campaigns in general as well as with specific interests and narrow features. In this way, you can reach people who are interested in your products and services and have the opportunity to show your ads to these people. This allows you to make direct sales moves with more affordable budgets.
Measurable Results
Google Ads has the ability to measure and report in more detail than traditional ads and other digital ads. This provides a great advantage to businesses that advertise. Advertisers can easily report detailed results through their Google Ads accounts.
Flexible Advertising Structure
You can make minor changes to your Google Ads ads at any time with fine adjustments. You can instantly learn about campaigns, announcements and new search terms in the internet world about your advertisement. In this way, you can make changes to your advertising campaign, try new keywords, pause and restart your campaign. By making instant changes in your ads, you can get the most beneficial results for yourself.
---
How to open a Google Ads account?
We've created a step-by-step tutorial to walk you through when opening a Google Ads account.
Google Ads is very important in making your job easier when determining your online marketing strategies. It is an extremely powerful tool for acquiring new customers, especially for small businesses. It is one of the fastest and most efficient ways to drive massive traffic to your website with high intent to purchase. Even if using Google Ads may seem a bit expensive at first, in the long run, you will get a great return on your investment.
You can follow the steps below to create a Google Ads account:
Go to Google Ads and Get Started Now
Go to the Google Ads homepage and click the 'Start now' button in the upper right corner, or the 'Start now' button in the middle of the page. Before you start, make sure you have a google account.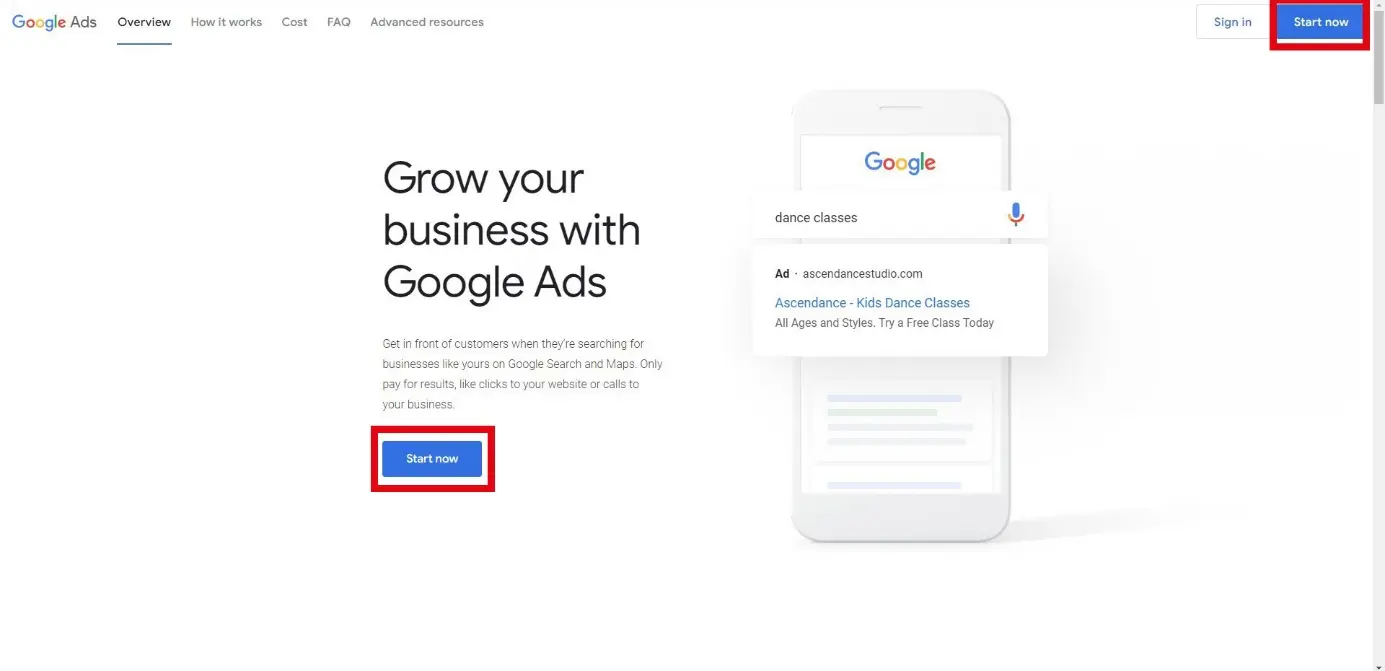 Sign in to Google Ads
On the page that opens, you will need to log in with a Google account. If you do not have a Google account, you can use the 'Create account' option at the bottom left.
Switch to Expert Mode
The first window that opens when you log into Google Ads is the Google Express window. By following the steps here, you create a campaign using Google Smart Ads, which is Google's simplest form of advertising. But if you want to open a Google Ads account without creating a campaign, click the "switch to expert mode" button.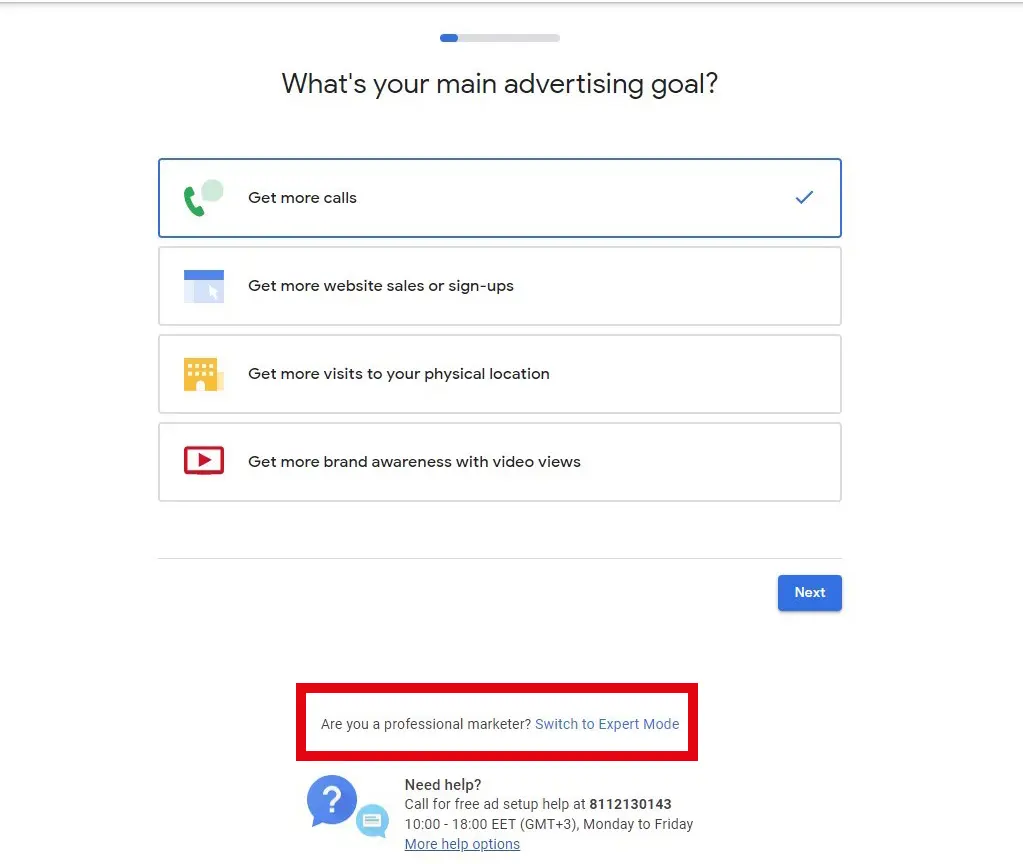 Create a Google Ads Account Without Campaign
Does Google insist on your advertising? Now you are in Google expert mode. You can create a campaign by choosing any of the Google advertising tools by following the steps here. But to create an account without creating a campaign, simply click the 'create an account without a campaign' button.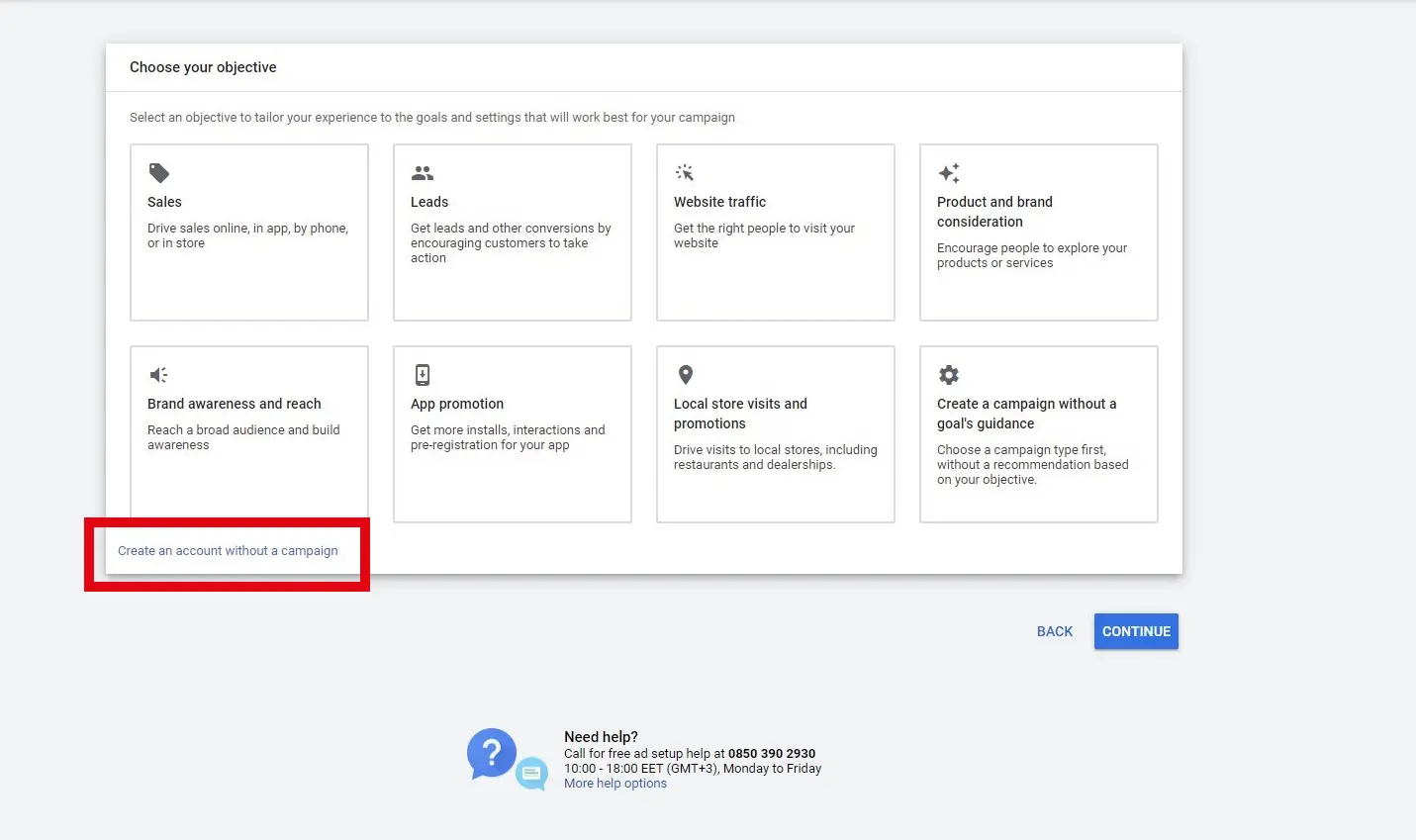 Confirm Business Information
Here you need to verify business information. Select the country, time zone, and currency where your business is located and click the 'send' button.
This is the information where the business will be located, not where the advertisement will take place. You must select the country where your business is located. You must define the currency when you confirm your business information. In addition, the currency does not change afterward.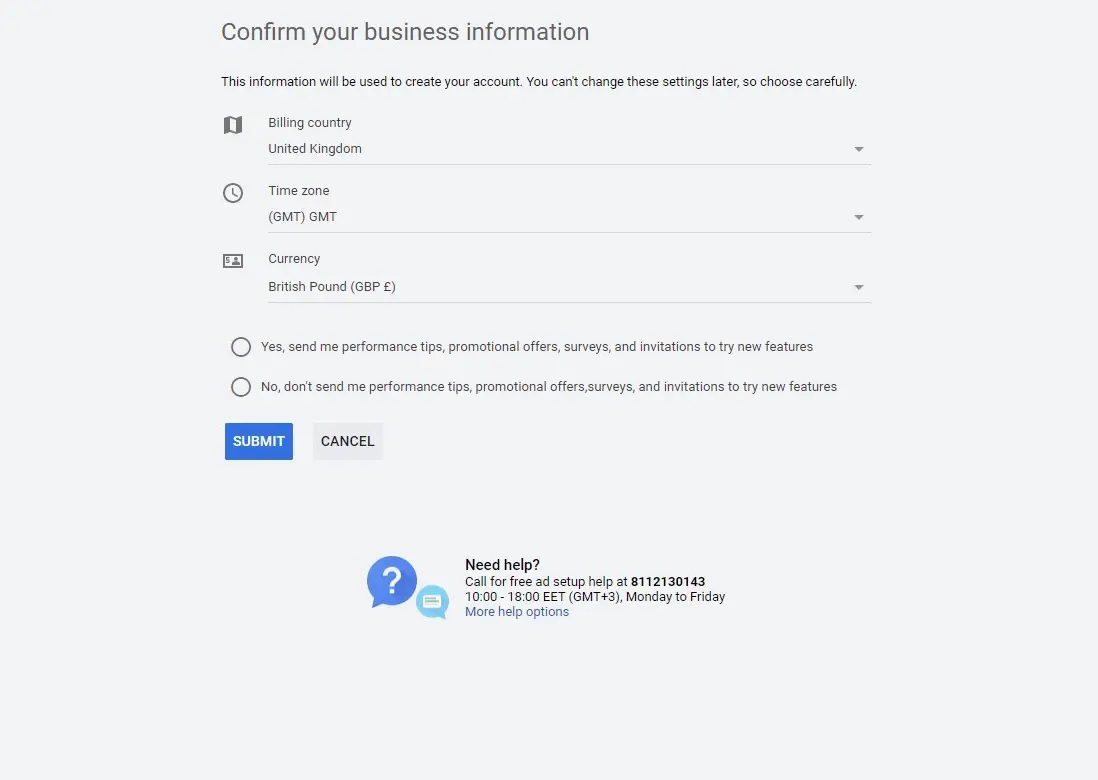 Submit Billing Information
You have successfully created your account after the first 5 steps. However, billing settings must be entered in order for your ads to be published. Click the 'Tools and Settings' button on the top right, and click the Summary option under 'Billing & payments'. In the window that opens, you will see the payment settings. Fill in the information here completely and accurately. That's how simple it is to open a Google ads account.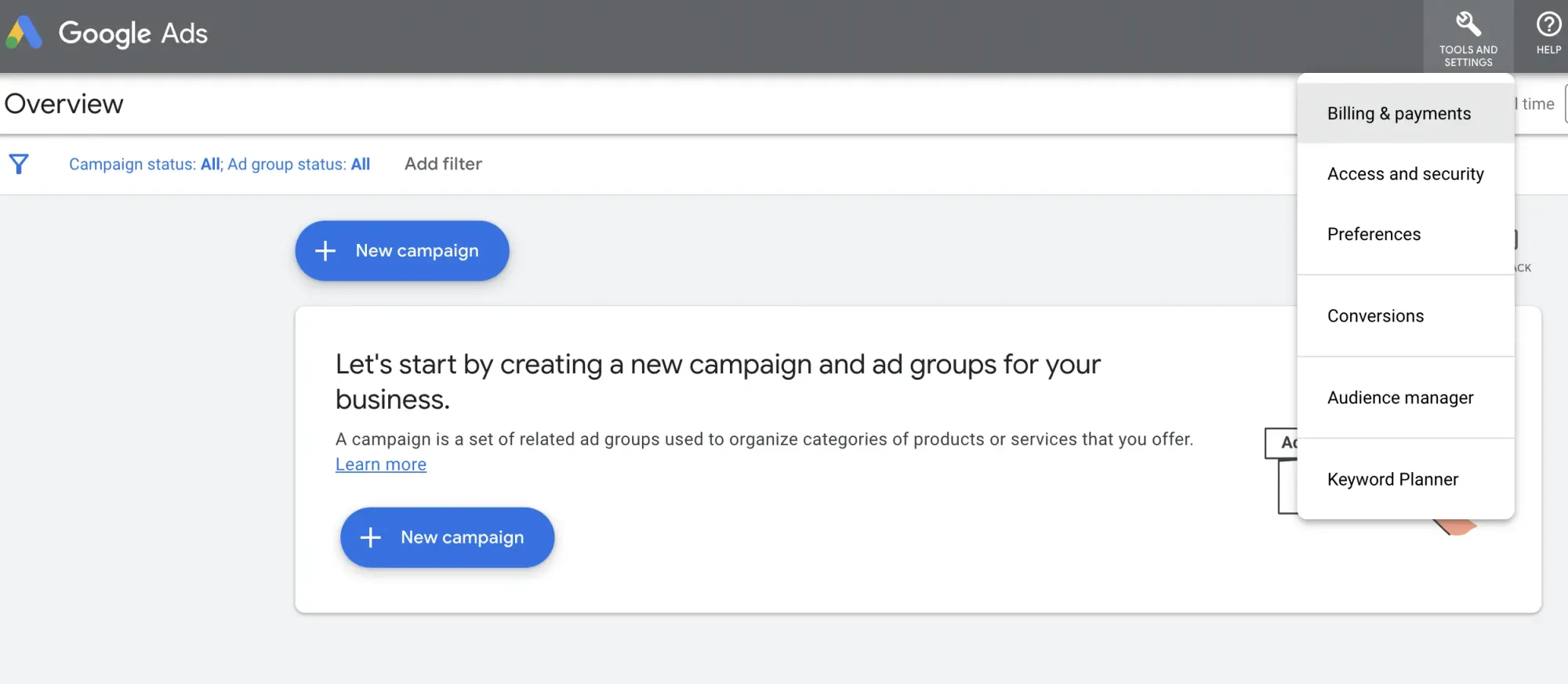 Set up your first campaign
You can follow the steps below to create your first campaign quickly and easily.
Go to the Google Ads Website
Go to https://ads.google.com. You will then see, "Start Now." Click on that and sign up for your Google Ads account. You can then click on the button that says, 'Create your first campaign' or '+ New campaign'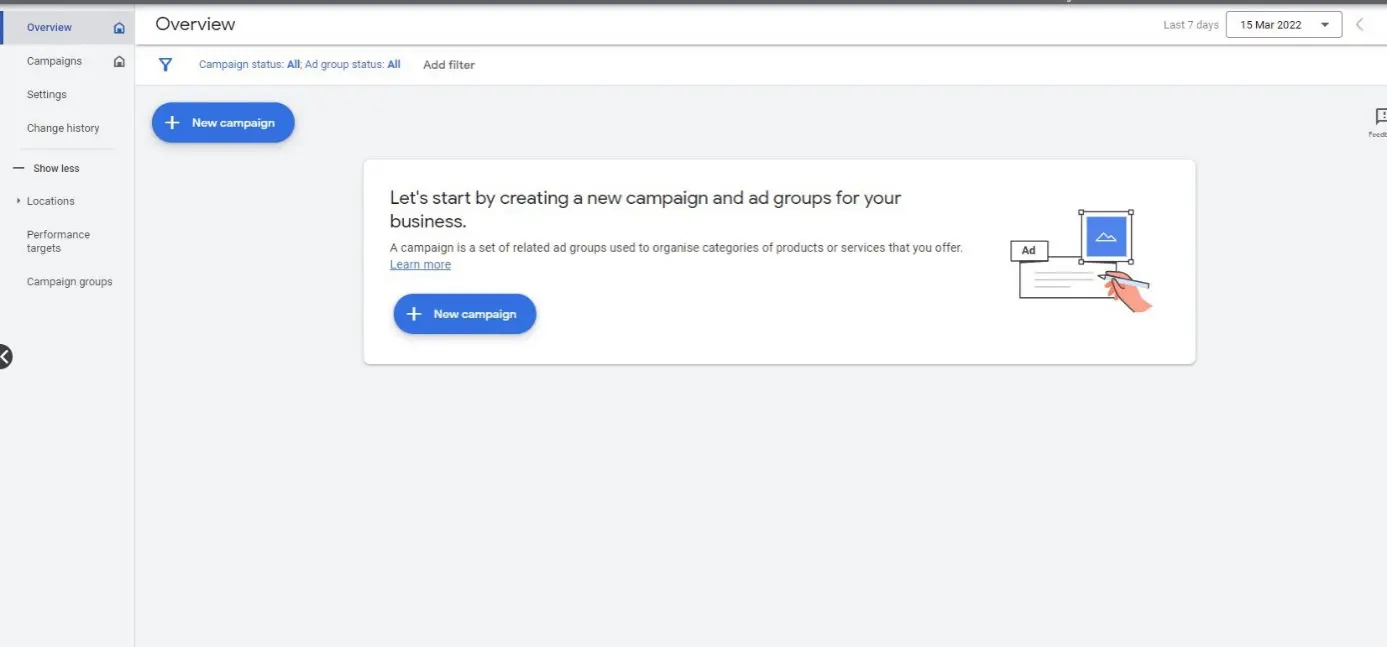 Choose your objective
On the page that opens, we need to choose a goal for our business. Choose the target that best fits your purpose in creating this campaign.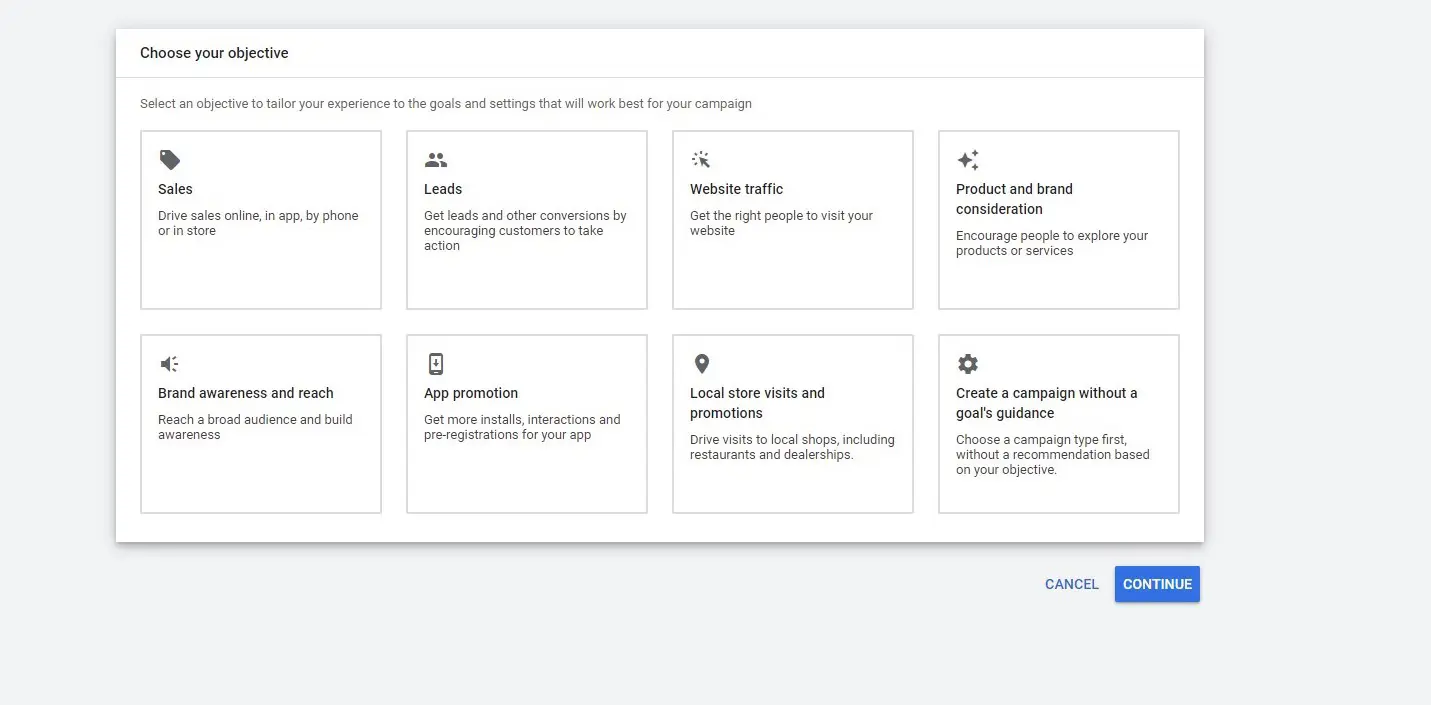 Choose a Campaign Type
On this page, you need to choose a campaign type. When you're just starting out, it's best to choose "Search Network Only".
Give your campaign a name and enter the address of the website where you want to advertise and proceed to the next step.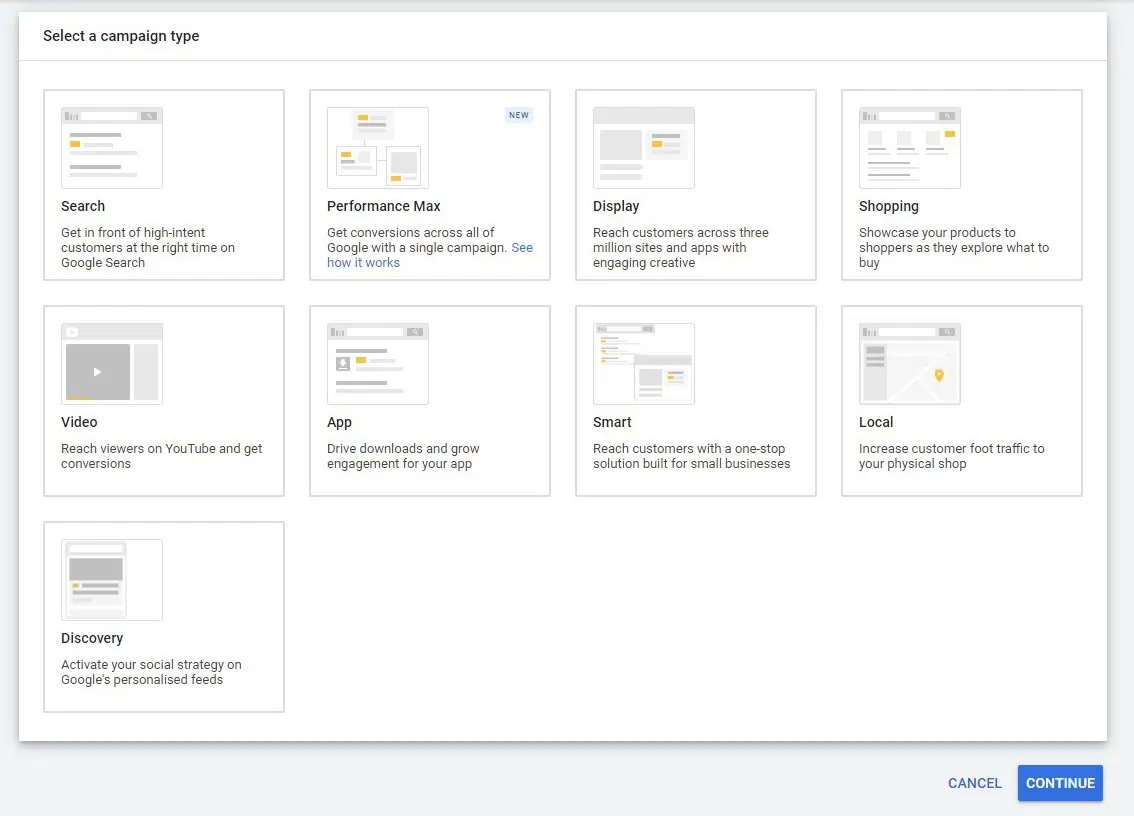 Budget and bidding
In the 'Budget' section, enter the amount you want to spend daily. Set a bid strategy in the bidding section.
You can then set a maximum limit for CPC by checking the 'Set a limit for maximum cost per click bid' section.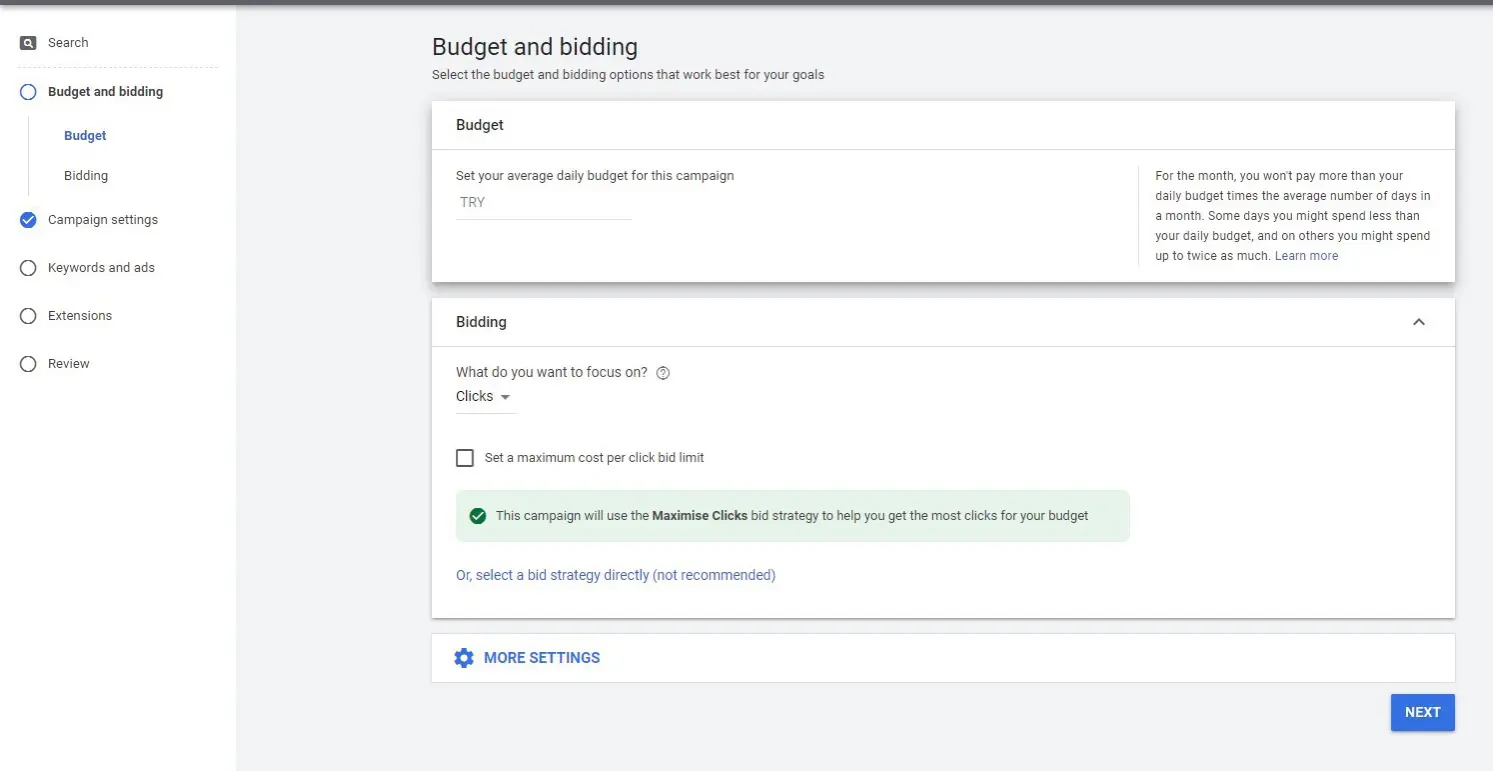 Campaign settings
In this step, we start to make our campaign settings. You can choose whether or not to appear on other websites that Google has partnered with. For this, we continue by selecting the 'Search Network' and 'Display Network', fields from the 'Networks' section.
In the 'Location' section, you can select the region where you want your ad to appear. If you want to target by the radius of our business location, check the 'Enter another location' option and proceed to the advanced search section.
In the 'Languages' section, select the language that customers speak.
In the 'Audiences' section, you can select a specific audience and show your ads to people who match that audience. For example, if you are selling school supplies, in this section you can target users who search for school supplies such as pencils, paper, and paints.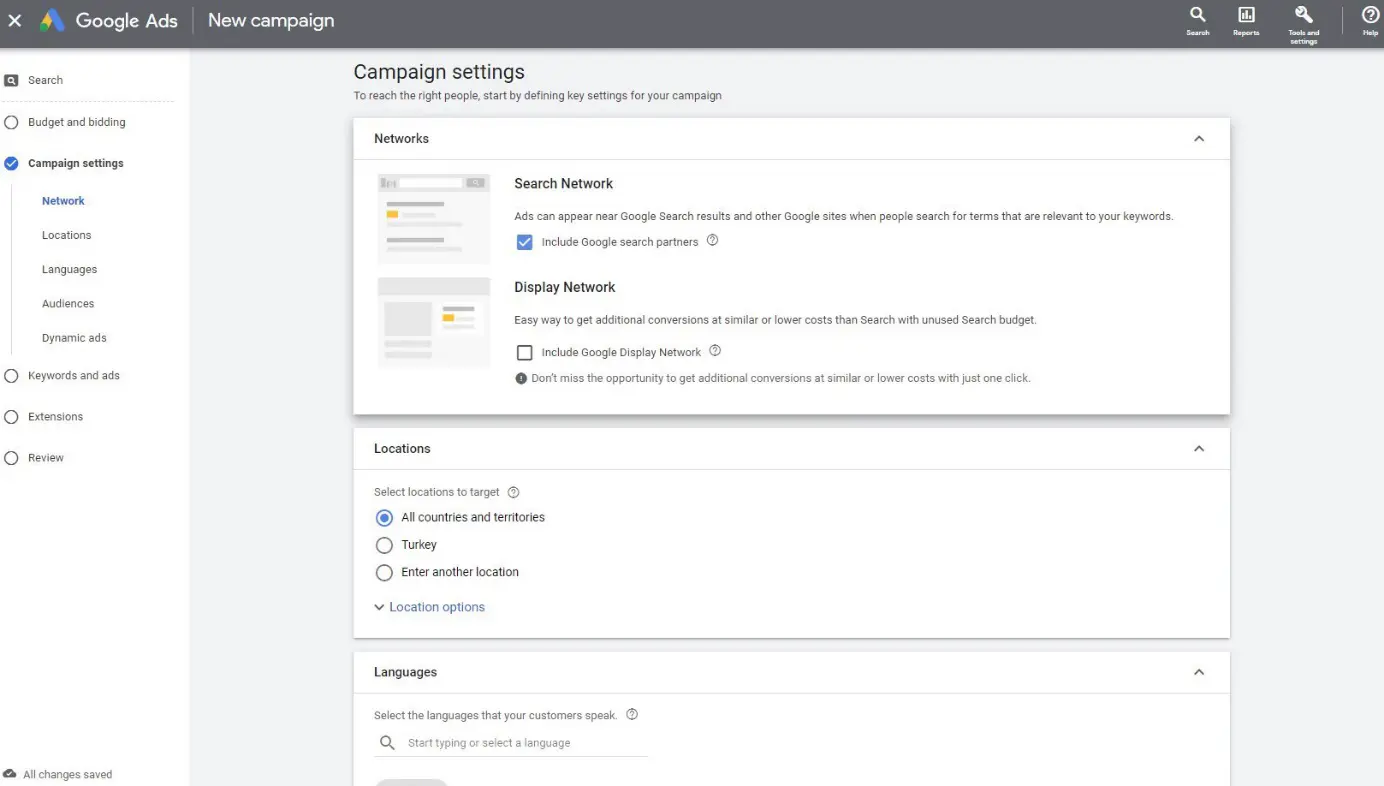 Ad Creation
Keywords are words or phrases that are used to match your ads with the terms people are searching for.
Enter these keywords in the field that says 'Enter Keywords'.
With responsive search ads, you can write multiple headlines and descriptions. Google puts them together and turns them into ads. Fill in the blanks appropriately with your keywords to create a responsive ad.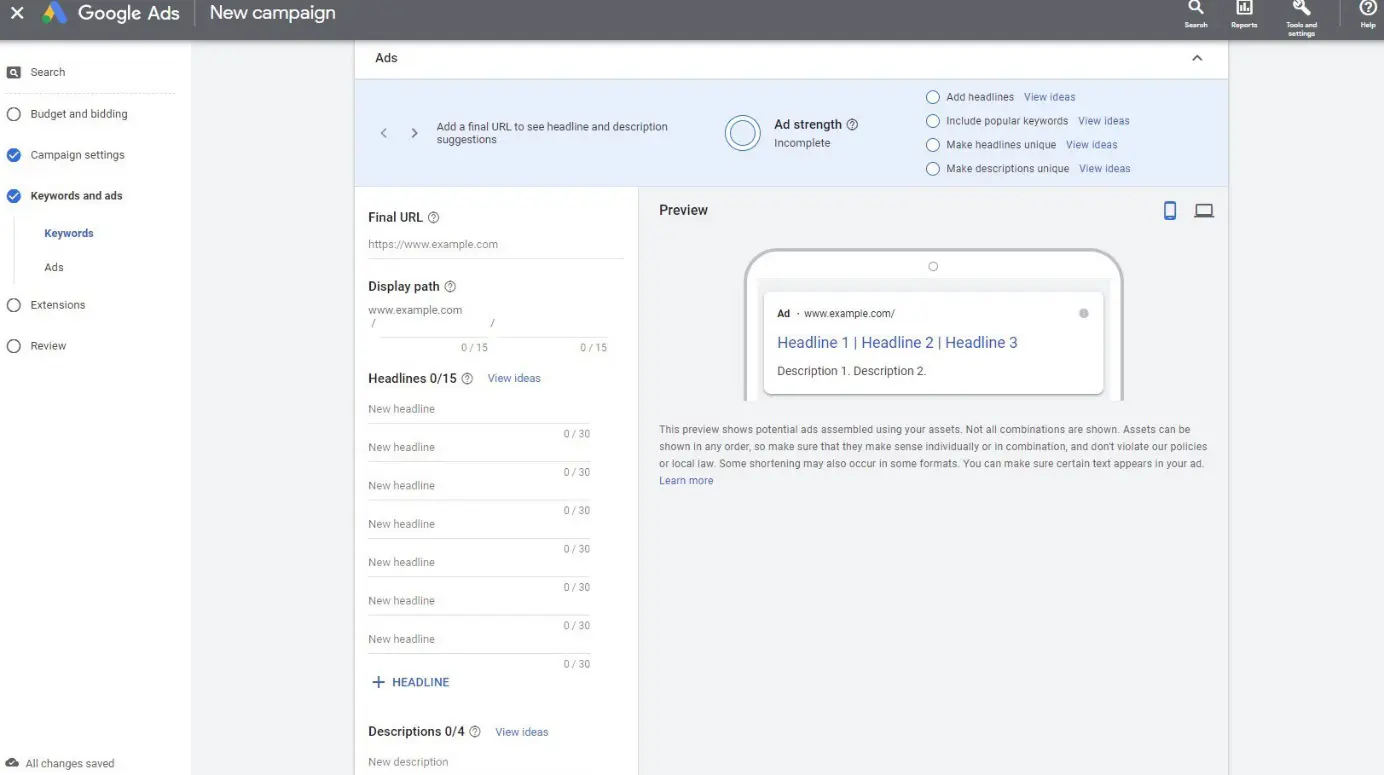 Extensions
Ad extensions allow you to communicate with your current or potential customers through advertisements. Thanks to the extensions you add to your search ad, users who see your ad can contact you.
The extensions you can choose according to your target audience and needs are as follows:
Sitelink extensions
Callout extensions
Call extensions
App extensions
Structured snippet extensions
Lead form extensions
Price extensions
Promotion extensions
We highly recommend adding ad extensions.
Review
In this final step, you can preview your campaign. If there is no problem, the campaign is ready now.  Congratulations!
---
Google Ads Campaign Structure
What are Google Ads Campaign Types?
How to choose the right campaign?
What are Google Ads Campaign Types?
Search Ads
Search ads allow users searching on Google's search page to be shown relevant ads based on your ad's keywords. For example, when a user wants to buy a shoe, it may be possible for the user to see your ad if it is related to your ad's keyword when searching on Google.
Google AdWords determines the position of your ads with the real-time auction system. Google always tries to give the best service to its users, so it does not keep the ads of the advertiser with the highest CPC in the auction in the first place, but also determines their position by looking at the quality scores of their keywords.
Display Ads
The Google display network allows display ads to be shown while users browse websites. Users can see your ads while browsing mobile websites or watching videos, which can help increase your brand awareness. It provides the opportunity to reach 90% of display network users. Many advertisers use the display network. In this type of advertisement, the fee is charged per click. In other words, you pay Google if users click on your ad and are directed to the site.
Shopping Ads
It is the type of advertisement that displays the pictures, prices, and information of the products found in the Google search results. In order to advertise in this area, we must have a Google Merchant account and it must be linked to Google AdWords. You can actually think of Merchant Center as the Google Warehouse of our products. Our products must be uploaded to the system to meet Google Feed standards. Shopping ads are an important type of ad for advertisers with high conversion rates.
Video Ads
It is one type of advertisement that allows us to advertise on the most trending video platform, YouTube. Our YouTube ads can only be created via Google Ads. The YouTube channel, where advertisers are scarce, is actually a great treasure. The type of advertisement is divided into three in itself: out-of-broadcast, Bumper, and Truwiew advertisements. Outstream ads are mobile ads that play on Google partners and apps.
Universal App Campaigns
Universal App Campaigns (UAC) is an automated ad type in Google Ads that helps advertisers generate more app installs or drive in-app conversions.
How to choose the right campaign type?
Before a business can run Google Ads ads, it should determine the campaign objective. The following information can guide you in choosing the most appropriate ad type for the campaign purpose.
Search Campaigns
If your goal is to generate traffic by clicking on your website or call to your business, you should choose a search campaign.
Advantages of Search Network Campaign:
You are more likely to sell because your ad is shown to people who are looking for your services.
You can stop and restart the ads at any time.
You can select the city where your business is located or target with mileage accuracy.
You pay a fee only if the visitor clicks on your site, not when your ads are shown.
You can test many possibilities by segmenting your campaigns.
Display Campaigns
If you want to show your ad to potential customers when they search Google, watch a video, or read the news, choose Search opt-in to display ads. This is a combination of Search and Display campaigns.
If your goal is to drive brand awareness or engage with your existing customers, then you should choose Display campaigns
Advantages of Display Campaign:
You can do interest targeting. High return thanks to relevant ad display by targeting users' interests.
You can perform website targeting. You can also specify the websites on which your ads will be published, one by one.
With demographic targeting, you can limit your ad impressions by targeting gender and age.
The best way for brand awareness. Whether it's for a narrow target audience with high sensitivity or millions for brand awareness.
Shopping Campaigns
Must be used for e-Commerce Sites!
An unrivalled advertising option that displays your product image, price, promotional message and site name on google searches for all your products or products you want, and pays for visitors that come to your site just by clicking on them; Shopping Ads!
Advantages of Shopping Campaign:
Displaying the product with its picture and price
Possibility of price comparison
First impression on related queries
Higher conversion rate
4x sales probability compared to other ads
YouTube Ads
With Youtube ads, you can reach millions of viewers and turn them into potential customers.
If you want to target customers differently by advertising on video sites or YouTube, you can choose video ads. This campaign type shows video ads on YouTube and across the Google Display Network. There are a few options here: in-stream, video discovery, non-skippable in-stream, out-stream, and bumper.
Youtube Advertising Advantages
Multiple advantageous ad formats
Targeting by demographic criteria
Targeting your website visitors
Targeting YouTube videos
Targeting YouTube channels
Multiple segmentation options to find the right audience
Universal App Campaigns (UAC)
If your campaign goal is app downloads, you should choose the Universal app campaign.
With Universal App Campaigns, you can reach the right people across all of Google's largest assets, including Google Search, Google Play, YouTube and the Google Display Network, all from a single campaign.
Universal App Campaigns uses Google's machine learning technology to analyze millions of signal combinations in real-time to optimize your bids and ads to find the best users for your app.
---
How to optimize Google Ads?
In order to get more efficiency from Google AdWords ads within your budget, and to get more clicks and returns with the same budget, you should definitely consider the following recommendations.
Organize the account
Google Ads is a powerful marketing tool that, if set up and managed well, will help you save time. Your Ads account consists of four main parts. Campaigns, Ad Groups, Ads, and Keywords.
Campaigns
Basically, a campaign is a way of organizing your advertising efforts to help you achieve your goals. For instance, if you owned an online clothing store, you might create separate campaigns for shoes, shirts, and pants and then create ads as a part of each campaign.
Ad Groups
Keywords
Keywords are words and phrases that you choose as potential triggers for your ad. You should pick keywords based on what you think people are most likely to enter when they're looking for your products or services on Google.
Advertising Content
Make ad headlines and descriptions more original and engaging. At the same time, producing titles suitable for your keywords will increase your quality score, allowing you to reach lower click costs.
Use 'call to action' in ad headlines. Like "Buy Now 50% Off" or "Order Now Earn Points". Since these types of messages will increase your ad click rates, they will have a positive effect on both your sales and your quality score.
It is very important for the quality score that the pages that your ads redirect to when clicked are also relevant to the relevant keyword.
For example, instead of directing the search word "eye cream" to the home page of your e-commerce site, it may be a better strategy to direct it to the category of your e-commerce site that lists eye cream products. The more your eye cream category page is associated with the word you define in the ads, the higher your quality score for that word.
Create multiple ads and check for conversions after a while to make improvements to the necessary headlines and descriptions. Use headlines that convert you more and remove headlines that don't convert from your ads.
Keyword Optimization
You can avoid irrelevant clicks by using negative keywords. For this, you can use the Keywords -> Search Terms menu to see which phrase you have clicked with and define the irrelevant words you have detected from the Keywords -> Negative Keywords menu.
For example, the keyword phrase "accounting software" may be important to you if you are an accounting software vendor. However, "free accounting software" reveals a different issue from your purpose or target audience. Identifying the word "free" in this example using the search terms section and identifying it with your negative keywords is very important for the subsequent performance of your ads.
Our purpose here is to identify the words that we receive irrelevant clicks and to define them as negative words, thus minimizing the number of irrelevant clicks. You should do this process daily and follow it. Negative keyword tracking and identification will greatly increase the return of your ads.
Conversions
Creating conversions from 'Tools and Settings' -> 'Conversions' and defining them to your campaigns by following the necessary steps is very important for monitoring and optimizing the success of your ads. Sales on your website or filling out a form can be considered a return.
For example, it is very important to display how many returns from which word an ad has received in the last 30 days. In this example, removing words that have never converted will make the conversion words even more effective. This means more conversions with the same budget.
For example, if the words "accounting software" and "accounting program" gave you 30 conversions in 1 month, but the word "online accounting programs" did not give you any returns, it would be good for you to remove the word that did not return from your ads. In this case, the amount spent on the word you removed will automatically be reflected on the returning words, so your number of turns will increase.
The purpose here is to follow the words that provide returns and those that do not and to transfer the budget spent on those who do not return to those who do.
Demographics - Age and Gender
You can track conversions for a certain period of time according to age ranges and exclude age ranges that do not return for your ads. You can do this under the 'Other' -> 'Demographics' -> 'Age' menu. For example, if you haven't received any returns from people aged 18-24 after a 30-day turnaround, you can exclude this age group from your ads. This process will increase your ad returns as it will transfer the budget you spent to the relevant age group to the returning age groups. You can also try the same process for gender.
Ad Schedule
You can examine the conversions of your ads according to the time intervals and you can plan the time intervals that provide more conversions for your ads. You can use the 'More' -> 'Ad Scheduling' menu to schedule according to time intervals. Similar to the example I gave in the previous paragraph, you can exclude non-return time intervals from your ads.
Devices
You can adjust your bids based on devices. There are 3 device types that you can define in this area and that we will all guess. Desktop, mobile phone, and tablet. If you get more returns from your ads than ads made on mobile phones, you can increase your bid by 50% for mobile phones, and decrease your bid by 50% if your returns are less from tablet devices. In this case, when your keywords are searched, your cost per click will increase or decrease by the percentage you define, depending on the type of device searched for. You can use the 'Other' -> 'Devices' menu to define bid settings by the device.
Smart Bidding
As the name suggests, the Smart Bidding strategy optimizes the bid strategy using machine learning and artificial intelligence to get specific conversion actions. As a user, all you have to do is enter an ad target. 'Smart Bids' optimizes the campaign for you to achieve this goal.
Landing Pages
If you're sending people to a bad landing page, the quality of your ad is irrelevant. That's why you need a well-designed landing page that sustains the ad experience and is truly valuable to all potential customers. Often the key to success is a fast landing page.
Analysis
The best way to examine the performance of your Google ads is to analyze them. Use Google analytics or a similar effective tracking tool and periodically check the performance of your strategy as a whole, not just individual campaigns.
With a small code called Urchin Traffic Monitor (UTM) codes at the end of URLs, you can track how your campaigns are performing.
---
How to become a Google Ads specialist?
How to get Google Ads certified?
Google ads expert minimum salary?
How to become a Google Ads specialist?
The first step to becoming a Google Ads Specialist is to understand how Google Ads works. If you're just starting out, you should learn about search campaigns. Once you've mastered search campaigns, you can move on to display campaigns and other campaign types that you can manage in Google Ads. There are many google ads courses available. You can improve yourself by following the training. You must also have an interest in digital marketing.
After you've figured out how Google Ads works, the next step to becoming a Google Ads Specialist is to get certified in Google Ads.
How to get Google Ads certified?
You can prove that you are an expert in digital advertising by having a Google Ads certificate. When you have this certificate, you will give confidence to both your current and potential customers and you will look more professional.
Let's explain how to get a Google Ads certificate;
First of all, you must be a member of the skill shop. https://skillshop.exceedlms.com/student/catalog
After you become a member, log in to your skills shop account with your login information.
After logging in, click on the explore courses section to start on the screen that welcomes you.
You should click on the Google Ads section from the options on the All Topics page.
You can start the exam by choosing any of the rate options on the Google Ads page
Google ads expert minimum salary?
Salary ranges will vary wide relying on several vital factors, as well as education, certifications, extra skills, the number of years you've got spent in your profession. The average Google Ads Specialist salary in the UK is the range typically falls between £29k and £47k