Do you like to put the dashboard on the TV in the office room? Then, you will like this Google Data Studio template if you have an e-commerce store.
I'll show around with screenshots but, we have the video option, too. Just click the below to watch the video onboarding on YouTube.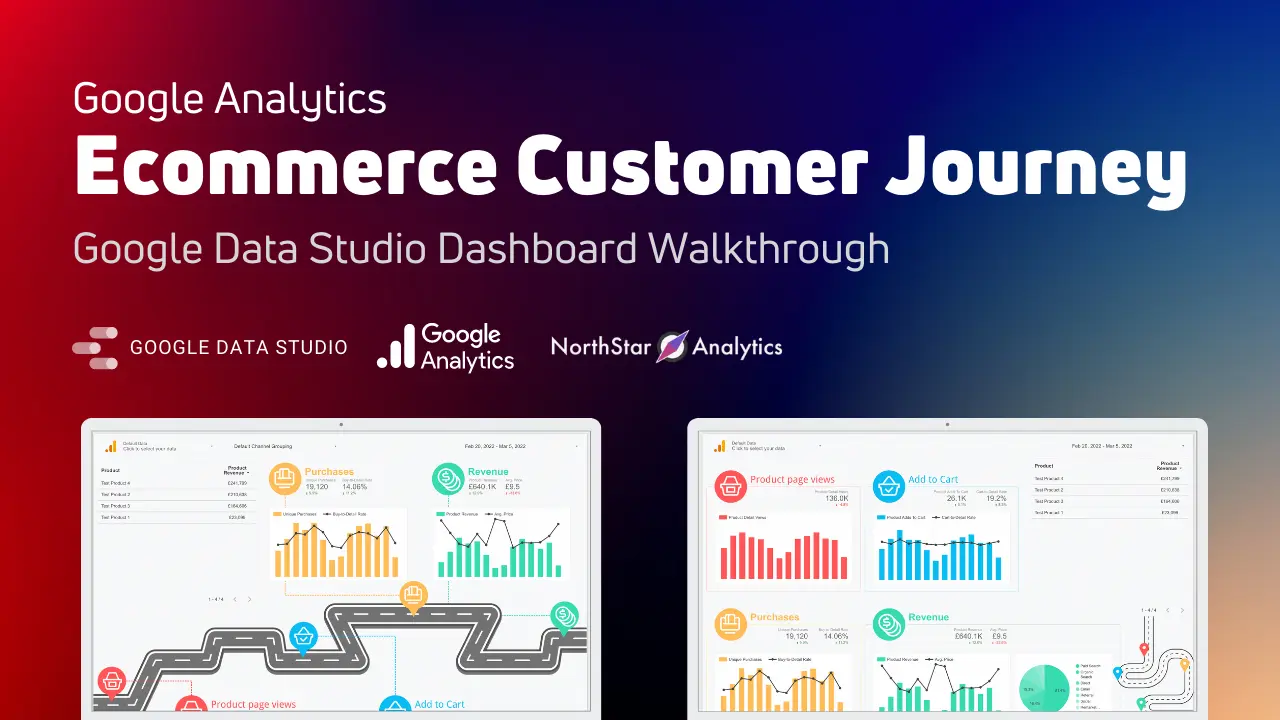 Google Analytics E-commerce Customer Journey Data Studio Dashboard
Watch on YouTube
Prerequisites to use this dashboard
This is the product analyzer Google Data Studio dashboard template. There will be a few requirements to use this dashboard:
You should have a Gmail account connected to a Google Analytics account already.
You should implement Google Analytics Enhanced Ecommerce in your store to use the full power of this Google Data Studio template.
Have both? Let's start our tour with path visualisation.
Customer Journey Mapping
It is obvious that the e-commerce customer journey is far more detailed and starts from awareness and branding and there is no visible endpoint but, think if you have one data source like Google Analytics and needs to create a Google Data Studio template then which metrics do you want to focus on?
Product page views
This metric is more important than sessions for e-commerce stores I believe. If your traffic source generate lots of traffic but, none of these looks at your products then, are these visitors valuable for you?
We need to increase product page views as initials if we are talking about the e-commerce customer journey.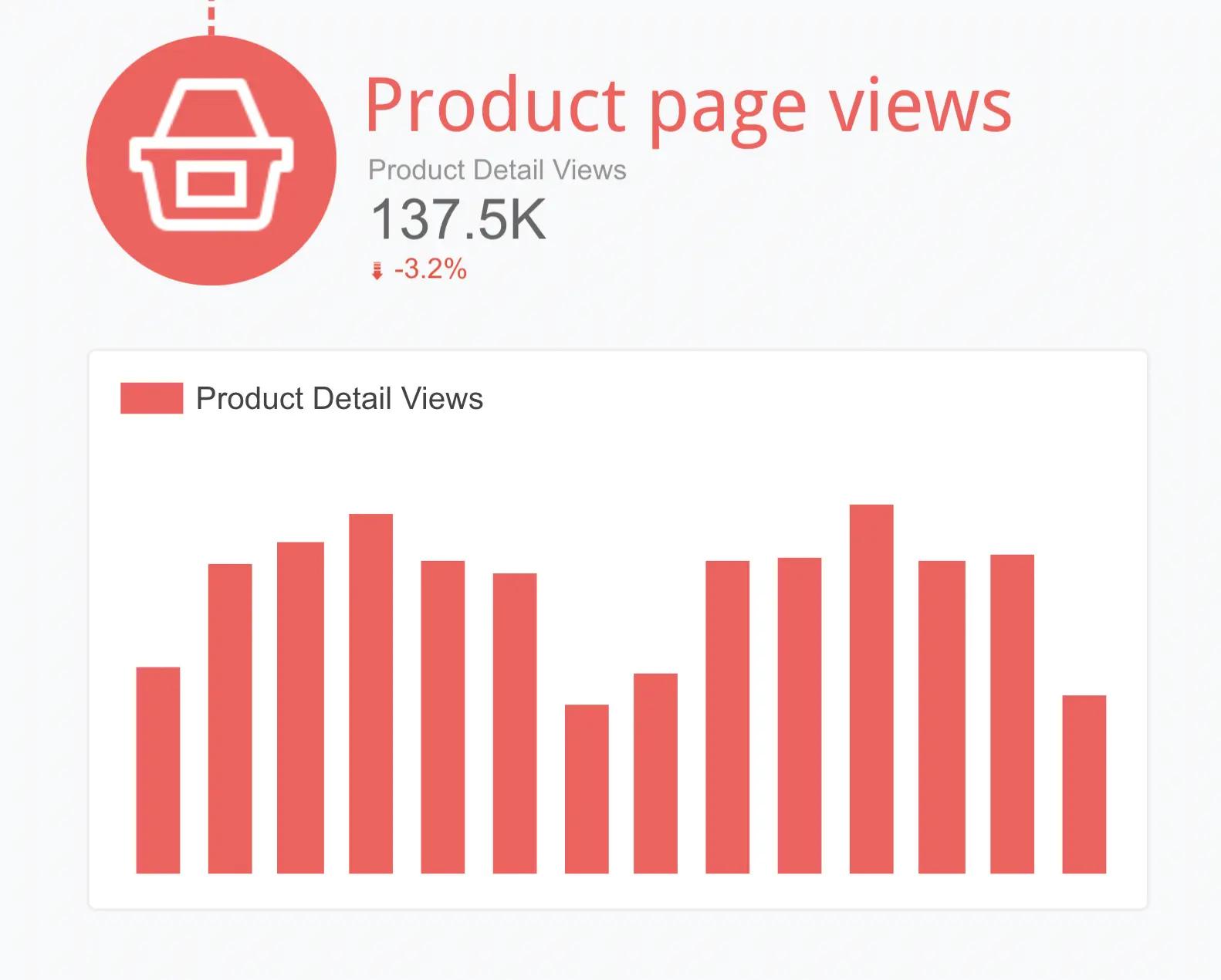 Add to Cart
The product detail page's main goal is not to give information to visitors information; make them add this product cart. We are giving information because we try to make their decision easier for them. So, this is the second important metric in this Google Data Studio template.
There is another metric and line chart in this part of the dashboard. This is "Cart to detail rate" which means a percentage of add to card actions divided by product detail views. A kinda micro conversion rate.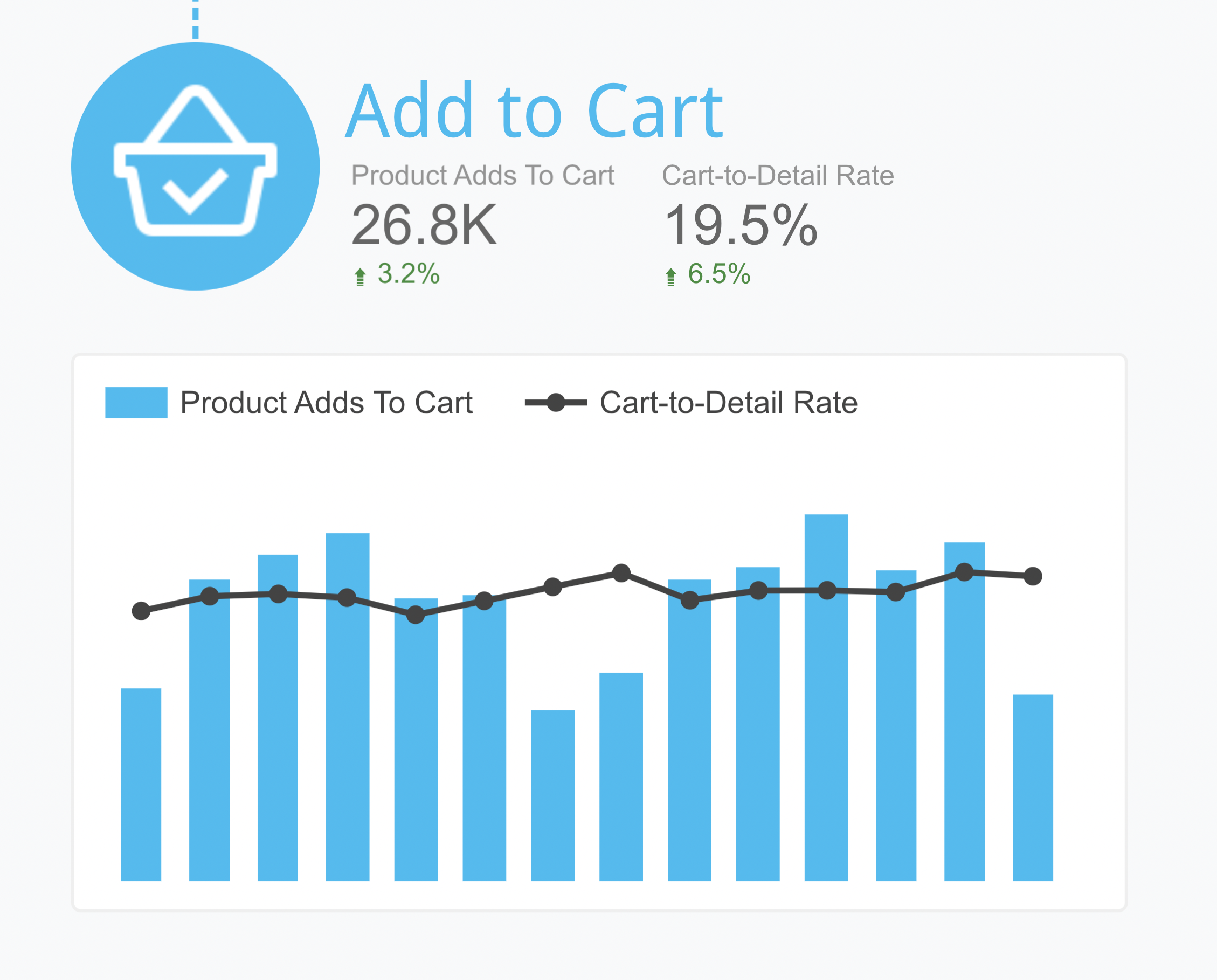 Purchases
Here is the final nominal metric of this basic e-commerce journey, transaction. Our store is live just because we want purchases from it.
This is a number of product sales, not transactions. You may have multiple products in the basket but, this dashboard's aim is to give the product's perspective to you. You can have a look at revenue drivers to see such details.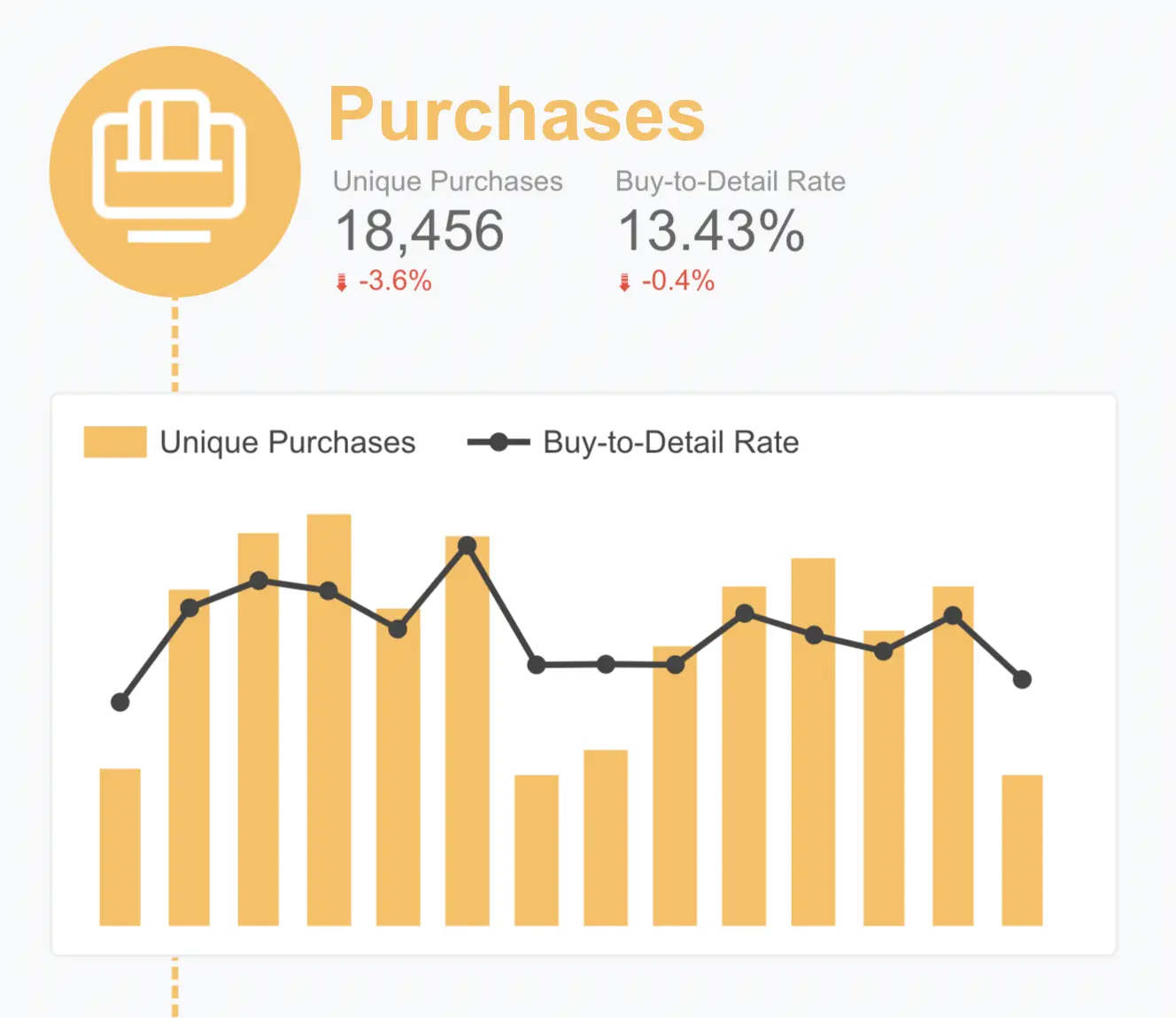 Revenue
We have one more financial metric for the last step, revenue. How much do we earn from the above transactions? What is our average price per product?
The bar chart gives daily revenue while the line chart shows the avg price of purchased products.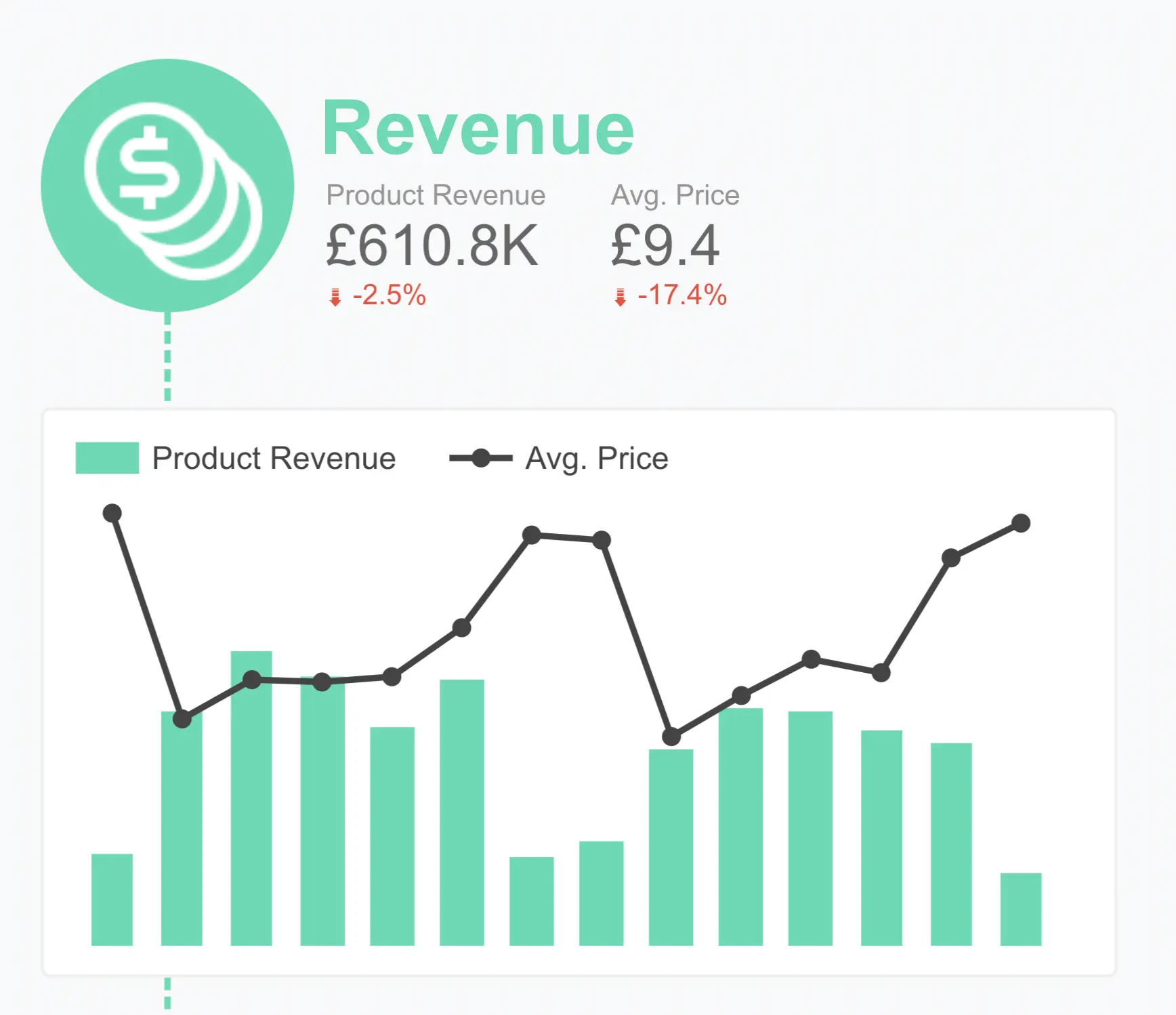 Google Data Studio Dashboards
This dashboard aims to be on your TV or any other display so, everyone will be on the same page about your e-commerce store performance. Below is the first visual page of this Google Data Studio template.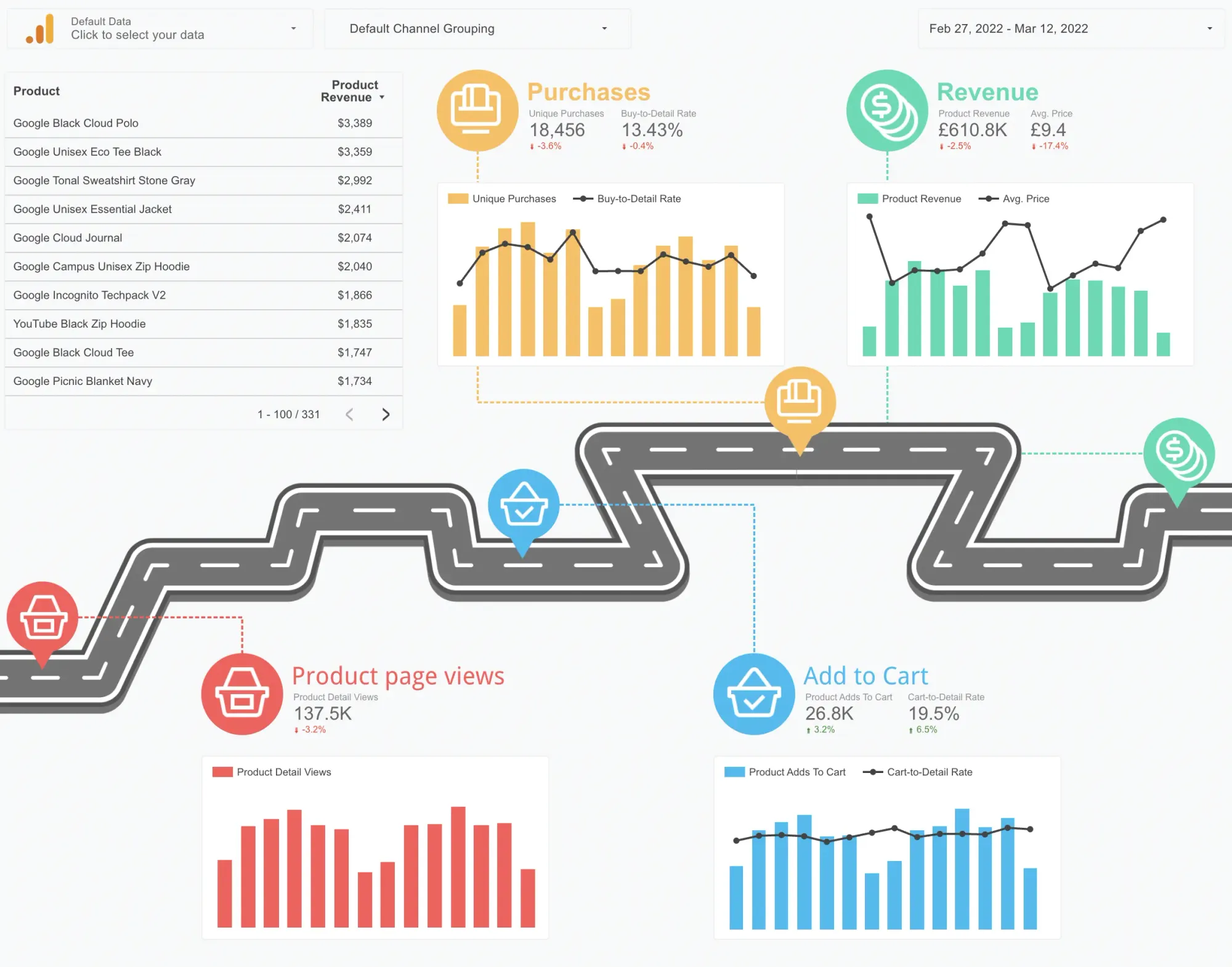 And below is the second version that contains less visual and more data. You'll have these 2 pages when you get this template.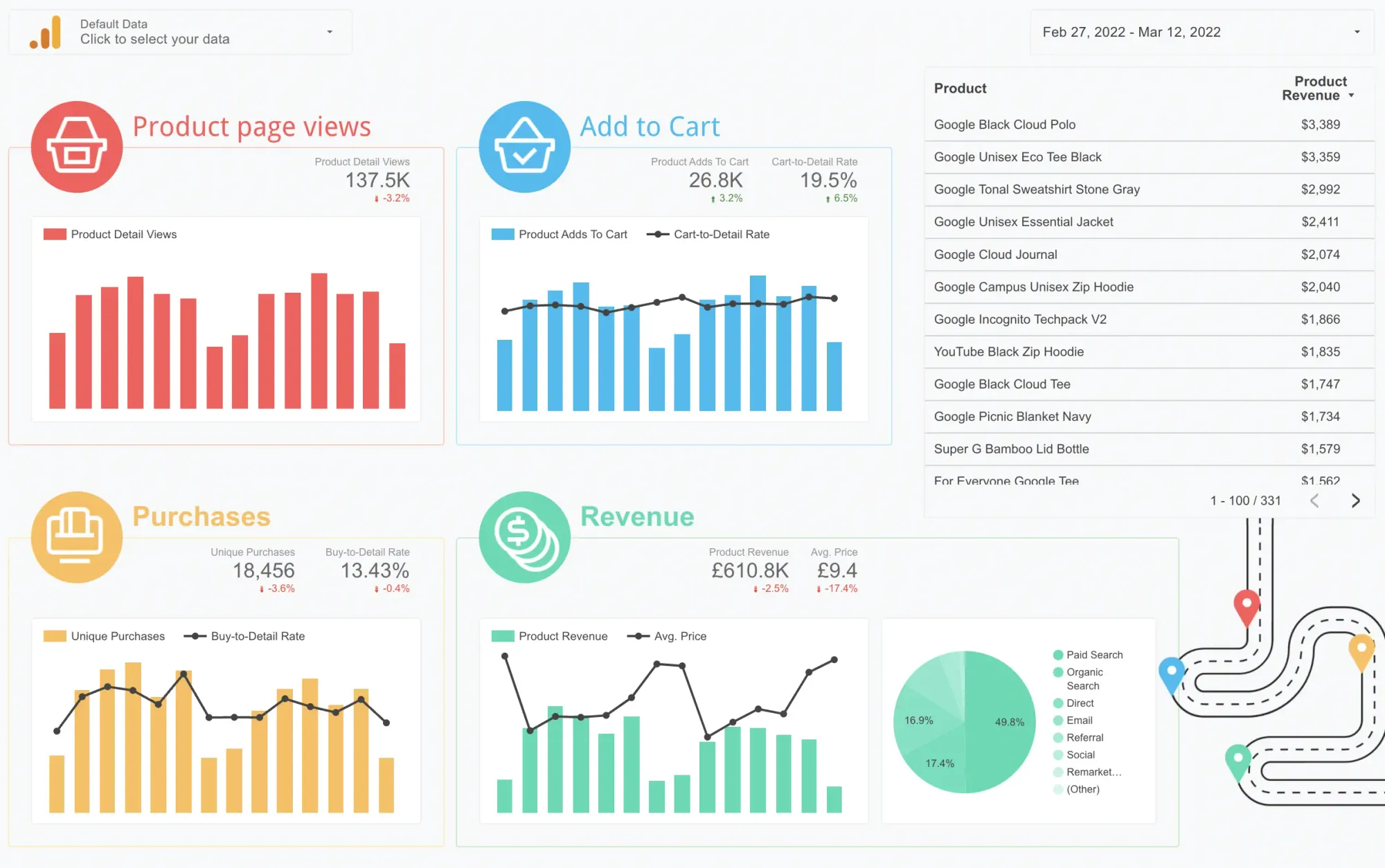 How to filter the dashboard?
Product filter
You can click on any product to see only this product's e-commerce journey. It is magical, right?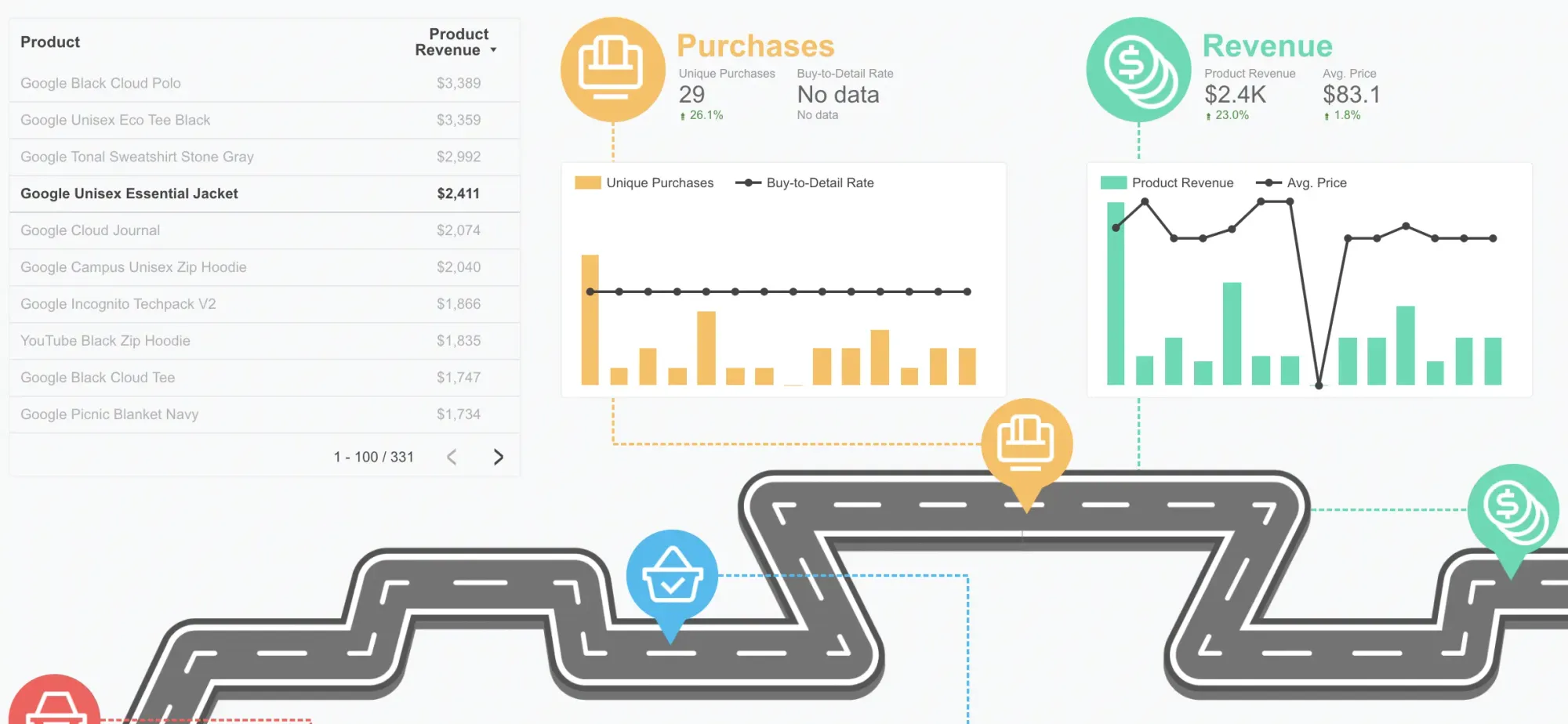 Traffic source filter
You can use the above dropdown to filter your dashboard to show only for a traffic source.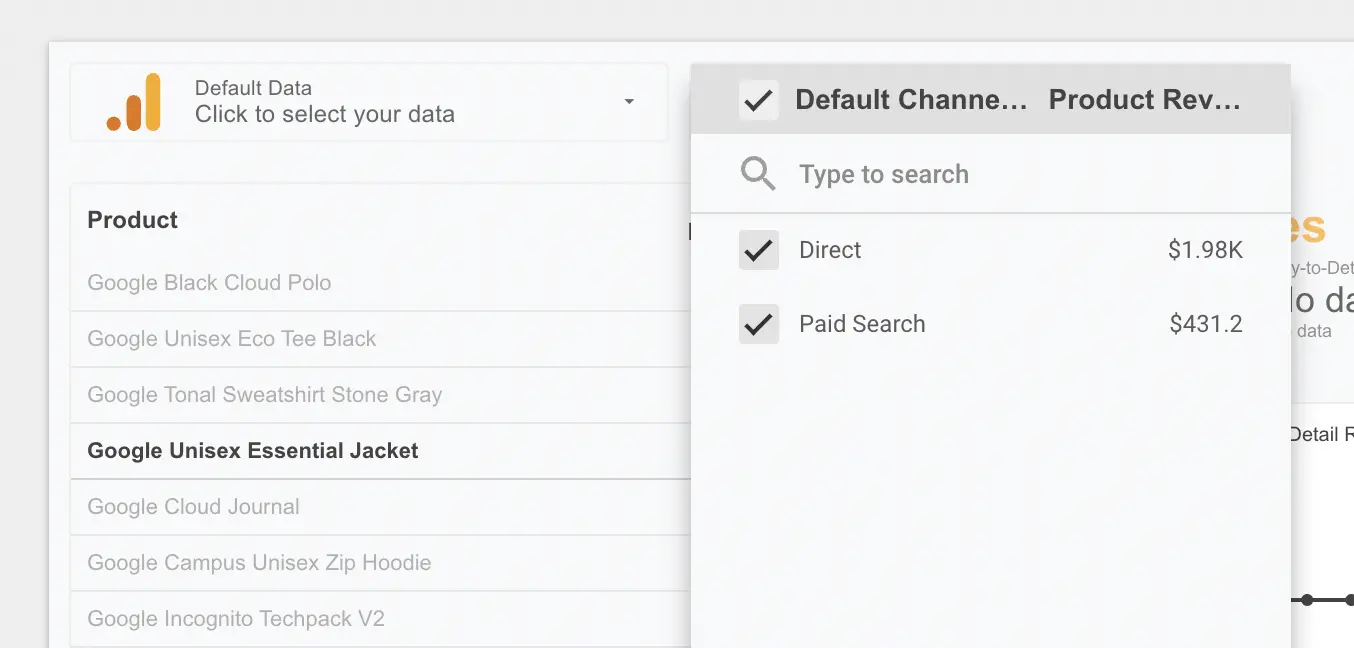 Or you can click the pie chart to access the same filter.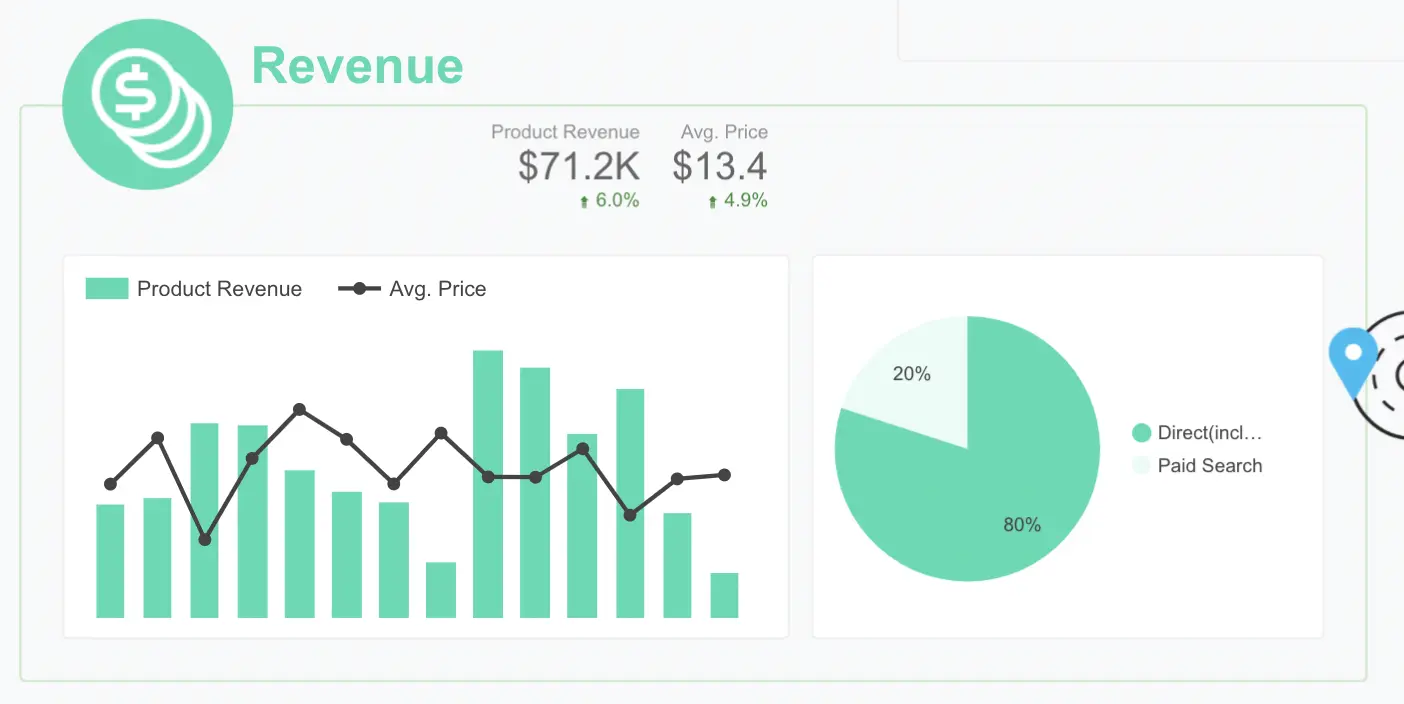 Data source filter
This is the coolest thing when you use the Google Data Studio template. You have access to all Google products natively.
If you are managing an agency or have multiple e-commerce stores, this will definitely help you to access all of them.

How to purchase this template?
If you need a custom made dashboard then, please reach us through the contact page, if you prefer to purchase the template and edit by yourself please check one of the options below.
Through Fiverr
If you have a Fiverr account and like to proceed through here then, please follow this link to access our Fiverr account page.
Through Etsy
We are putting these templates on our Etsy page, too. Here is the link to the store in case you have an Etsy account and prefer to proceed through this platform.
You may think why all of these dashboards cost so little. Because you caught me in the phase of learning how to sell digital products rather than my hours. So, enjoy your templates, and let me know if you have any feedback for them.
Subscribe to the lifetime plan
We are offering lifetime access for current and all future templates. Also, you'll have a template request option without extra cost if the template gallery hasn't included it yet.
Click here for details: https://northstaranalytics.co.uk/membership/
How to copy this dashboard?
We have been created content about duplicating Google related dashboards here.