If you have a small/medium business or you are a startup, you can easily use the ideas below and make progress:
Define Your Customer Segment 
Get Them To Come Back (Increase Retention)
Watch Your Competitors
Use Social Media Power
Significant Impact: Customer Support
Build Blog Page
Add Social Proof
Produce Video Content
Free Shipping & Demo
A/B Testing

1- Define Your Customer Segment
Even if you are Amazon, you can not sell to all the people on earth. The most important thing not to waste your ads budget is to determine the segment who will be your customer and not be. This way, you are going to save your budget and effort.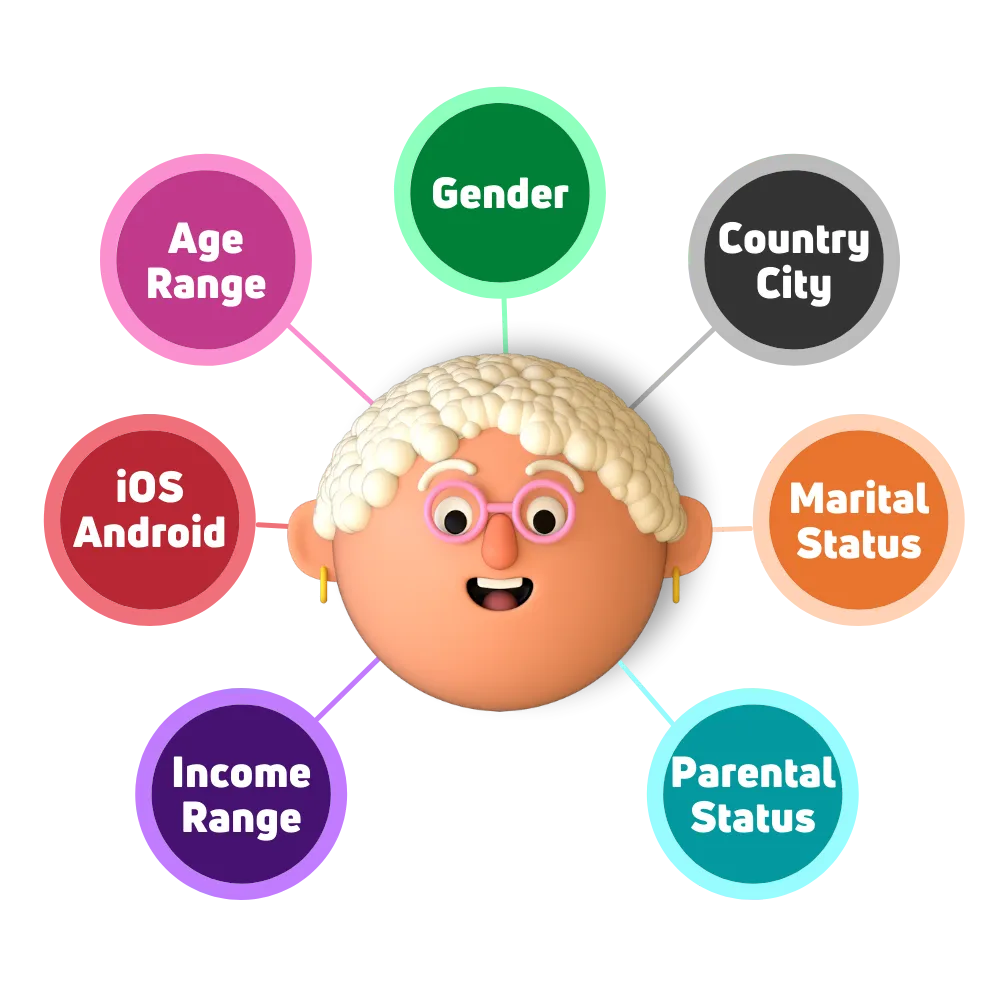 These are the segments you may need to determine your customer segment and save your ad budget for a good reason:
Age Range 
Gender
Country / City
Marital Status
Parent or Childless
Income Rate
Operator Preference (iOS, Android)
You can make segments for a different ads group that you think they are your audience. In this way, you can easily see which segments bring you how many conversions.
If you don't have enough budget for an ads campaign, you must try long-tail keywords and focus them. If you focus on generic keywords, you may lose besides big companies.
Let's explain with an example: 
Generic (Don't):  Buy Dress
Long-tail (Do it): Red Satin Strappy Bodycon Mini Dress
---

2- Get Them To Come Back (Retention)
If we are going to talk about Growth Business, we should mention AARRR (acquisition, activation, retention, referral, and revenue) metrics. The most critical metric inside of these is Retention. So you have to find a way to bring users back to the website.
You can use different tactics to increase the retention rate. You can start by planning the following suggestions, which are suitable for your sector.
Push Notification: Analyse the push notification messages that you send on different days and hours. Add emojis to your messages and use daily language. After a while, you will reach the template that your audience will like and you will attract more users to your site. 
Gamification: If your business model is suitable for this, you can use gamification tactics. For example; you can define free shipping, trial period, and small discounts for people who are members and fill out all membership information completely. Then you can use that data in your different targeting. If the membership information is not important to you, you can apply the same simple method for different actions that are important to you.
E-Mail Marketing: One of the most effective methods is still reaching your users via e-mail. One of the most effective ways to talk about discounts, special privileges, and innovations. This makes it more important to collect emails from your users. You can make some changes to your design to collect emails more easily.
Blog: It doesn't necessarily have to be about current topics, but if you offer useful content, your audience will visit you again and again. Do research on what your competitors are doing in your industry, what people are searching for, and stick to it by creating a content plan for yourself. Continuity will increase your traffic.
A Good User Experience: If your design has some glitches and users don't quickly understand what to do when they land on your site, they will likely leave without spending too much time there. The way to do this is to improve your user experience, especially on mobile devices. You can use various analysis methods and A/B tests for this.
You can use this template to measure Retention metric.

3- Watch Your Competitors
Know Your Competitors!
What's good about them? What are the best aspects of you?
What subjects did they focus on?
How do they explain the similar services you provide to users?
At what points are they missing from you?
If there is a service they do that you see as important, you should consider how you can integrate it into yourself.
If there is an important service that you do and they do not do, you should work on designs and setups that can bring it to the fore. You can't expect your users to look for this feature. You should work on this subject for a while, if possible, how they can get to know you most comfortably and see your vital services most shortly.

The most crucial point here is not to copy your competitors but to discover and highlight the aspects that you are better than them—finding opportunities to improve your bad aspects.

4- Social Media
Being on the platforms where your target audience is vital. Platforms such as Facebook, Instagram, TikTok, Pinterest, Twitter, YouTube have different target audiences and purposes. In addition, the content you will share on these platforms is different.
You will not be successful if you share the same content for all of the platforms. You don't even need to be in all of them. Identify the two or three most important platforms for you and start editing your posts.
"Which is more useful to me?" When looking for an answer to the question, you can first proceed with the gender and age of your target audience.

5- Customer Support
One of the most significant steps in doing business in digital is being there when your customers need you. If they can't talk to a customer representative when they have a problem and can't convey their problem to you, you can trust that they won't choose you for their next order.
Email is a slow method for these days in such problems. Therefore, for your users who are looking for a quick solution to their problem, you can consider adding methods such as telephone, chatbot, or live support, where they can communicate and get answers instantly.
In addition, you can be one step ahead of your competitors by increasing customer support to 24 hours on special days such as Black Friday and Christmas.
Good customer support will get you through word of mouth and gain new happy customers.
You should read Zappos' customer support case, which took 10 hours and 43 minutes on this subject. 
Whatever it takes to connect with the customer has been done. :)
https://www.zappos.com/about/stories/record-call

6- Blog Page
Don't you have something to say about your sector? If you are an expert on the subject, there is no reason not to share this with users both visually and in writing. It even makes them trust you more, see you as an expert, and visit you again and again.
It is useful to create blog posts using the patterns that users search for. For instance, let's say you want to create a blog page for an e-commerce site that sells evening dresses.
Wrong Topic: "What is an evening dress?"
Correct Topic: "Evening dress models to wear to the wedding ceremony"
If the goal is to increase your dress sales, it is useful to prepare a blog content plan according to the queries that users will search when purchasing.

7- Social Proof
We still have a trust problem on digital platforms, and it looks like it will continue for a very long time. Especially if you are a new business, it can be a little more challenging to turn your visitors into customers. Especially for a company that does not have an offline store or branch.
You can provide some evidence for your users to understand that you are trustworthy.
Some of those:
Instagram contents
Twitter wall
Testimonial area
Customer reviews /stars
How many people have that product in their cart, how many people have bought it, etc?

8- Video Content
No matter what you sell or what service you provide, there is no other type of content that tells you as much as a well-edited video. You can use video content for almost all businesses. It is a method that is both easy to consume and easier to understand.
You don't need to spend a lot of money here and have agencies make video content (Of course, it would be nice if you did, but if your budget is low, don't be afraid.)
If you are an e-commerce site, make sure to show how your products look with a video. Its texture, stance, flexibility, details…
If you are a service site, summarize what you do and what your process is like with a short video. It is very important to be short. :)
Note: You can also add subtitles to your videos, especially for mobile users.

9- Free Shipping Or Demo
You can offer free shipping to your new users so they can get to know you. Or, if you have a digital product, you can define short-term use or demo account access.
Such tactics are critical for users to build their loyalty. Even if you clearly explain how good you are and what you do, it can be difficult for them to establish that connection and come back to your site without experiencing your service.

10- A/B Testing
If you have enough site traffic, run as many A/B tests as possible. By analyzing your users, you can find where they have problems and you can proceed with controlled A/B tests to change these problems. This way, you can see which change has had a positive or negative effect on you.
According to Google's data, only 30% of A/B tests are positive. In other words, 7 out of 10 changes that you publish without testing either cost you money or have no positive effect.
First of all, you can start with simple setups such as wording tests, color, and visual tests. One of the free tools you can use is Google Optimize. It offers the possibility to run five A/B tests at the same time.
Here are a few examples of items you should test specifically on your landing page:
Ideas:
Contents
Different visuals
Button colors, sizes, and place…
You can get help from an expert in A/B tests for more complex setups so that you don't suffer from incorrectly constructed and incorrectly measured tests.
Like this article? You can check niche-specific growth ideas.