Power BI offers you an in-depth analysis of your data in a simple, attractive, and interactive way.
It is an intelligent self-service business intelligence solution available in the cloud to enable business users to explore their data.
With this blog post, you will learn more about Power BI which helps you to understand how to make your data more useful so that you can get more insights out of it.
As the amount of data we generate grows by the day, so does the value of extracting information from it. Data is essential for businesses, but gathering it is pointless unless it is transformed into value. Businesses now require business intelligence software to extract value from this critical data. This is the first in a series of posts introducing Power BI, Microsoft's business intelligence software designed to meet this need. So, exactly what is Power BI? let's see
Microsoft Power BI is a full-stack business intelligence tool that contains various connectors and applications.
---
What exactly does Power BI do?
Microsoft Power BI is a business intelligence tool for creating reports and extracting insights from data. Power BI can connect to a variety of datasets and "organize" the data it receives for better comprehension.
The reports and visualizations created with this data can be shared with other users through the Power BI service. Power BI includes machine learning capabilities, allowing users to see not only what has happened in the past and present, but also what may happen in the future.
---
Process Flow of Power BI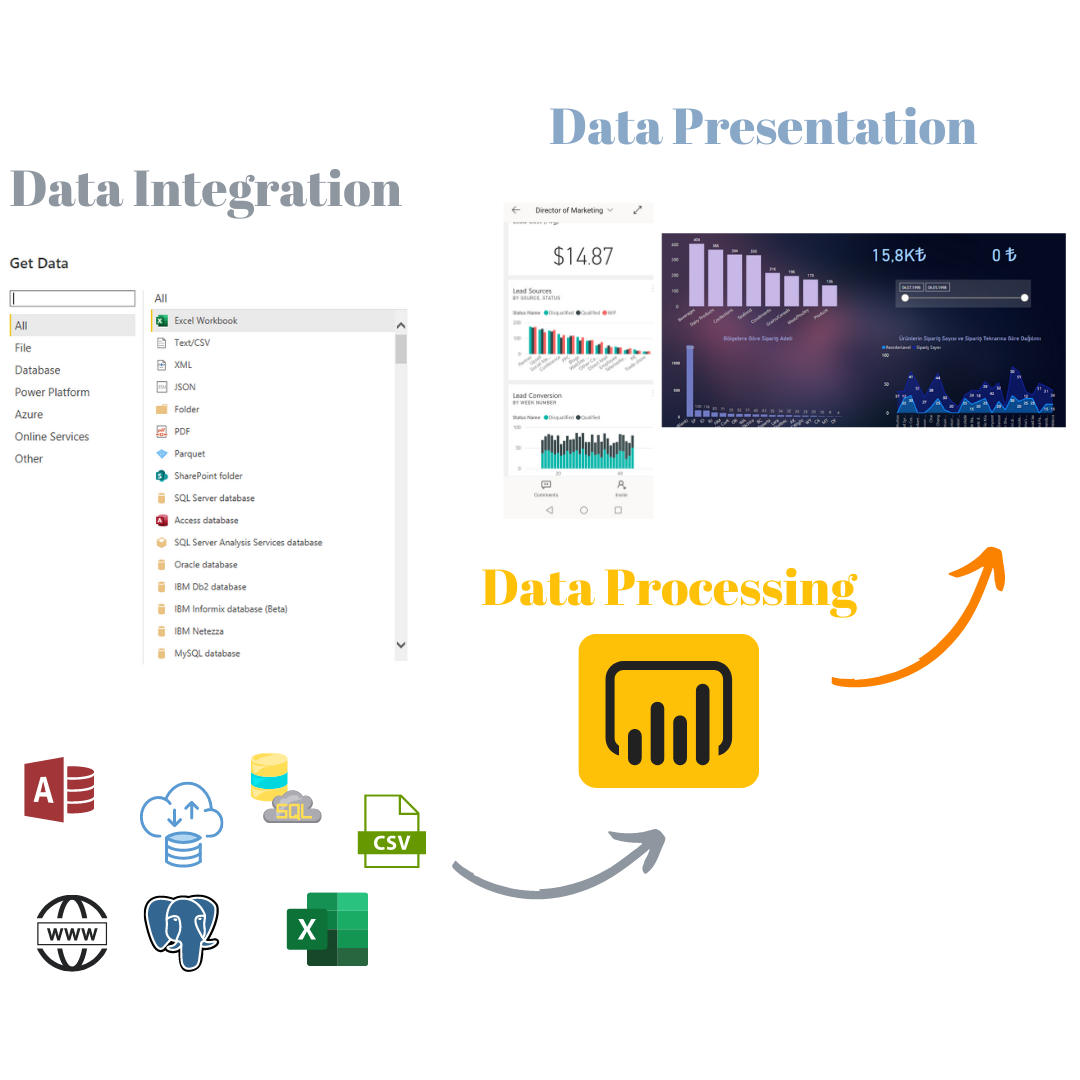 Get a thorough understanding of Power BI Architecture here.
---
There is 3 type of Power BI:
Power BI Service
Power BI Mobile
Additionally, Power BI can be deployed on both on-premise and cloud platforms.
---
What versions of Power BI are available?
You can use Power BI Desktop, an online SaaS (Software as a Solution) service called Power BI service, a mobile Power BI app for iOS and Android phones and tablets, or an established on-premises version. A white-label service in the role of a Power BI Report Server is also available for software developers.
Free for small and medium-sized businesses.
Power BI Pro
A paid per-user license is required for access to advanced features and the ability to share reports. Power BI Pro costs $9.99 per user, per month. Power BI Pro is also included in the Enterprise E5 plan for Office 365, which costs $35 per user per month.
Power BI Premium
Enterprise licenses for large businesses and organizations. Power BI Premium provides you with a dedicated resource for your organization and is thus priced based on capacity. The cheapest available capacity level is "P1," which costs $4,995 per month.
Power BI Mobile
A device-based app for phones and spreadsheets.
Power BI Embedded
If you want to use PowerBI in your software then, this feature is right for you.
The cost of Power BI Embedded on a pay-as-you-go basis is determined by which "node" you use. A node is a connection point between a system or device and the network to which it is linked. The pricing structure of Power BI Embedded offers a variety of nodes, each with a different level of processing power; the more power the node has, the more expensive it is to use.
For example, if you select an A1 node type, you'll pay $1.0081 per hour of usage and receive 3GB of RAM capable of processing 300 renders per hour.
Power BI Report Server
If you need to put all of the data on your server then, you should use the on-premises version of the Power BI.
---
Why Power BI?
Power BI can perform real-time analysis by establishing direct connections to data sources.
If the current visualization options aren't sufficient, you can use custom visualizations from the visual gallery.
Quick Insights is the best option to reach the insights within your datasets.
Power BI can connect to other services such as SQL Server, MySQL, PostgreSQL, Google BigQuery, Snowflake, and so on.
---
Who uses Power BI?
While most business intelligence products are used by business analysts and data scientists, the ease of use of Power BI allows it to be used by a wide range of employees.
---
What additional Business Intelligence products does Microsoft provide?
Power BI is part of Microsoft's larger commitment to BI products, which includes:
Azure Data Services
Azure Data Services enables users to quickly build intuitive applications with built-in AI by utilizing a variety of tools, technologies, and deployment options. Server for Machine Learning Microsoft Machine Learning Server is a versatile service that analyzes large amounts of data, builds AI-powered applications, and uncovers insights using Python and R.
Analytical Platform System
The Microsoft Analytics Platform System is a data warehouse and Big Data analytics platform. The service provides users with comprehensive data integration, lightning-fast query processing, scalable storage, and simple maintenance tools via SQL Server Parallel Data Warehouse.
SQL Server
SQL Server is a relational database server developed by Microsoft for storing and managing large amounts of data in rows and columns, much like a spreadsheet. SQL Server is a standardized programming language that is used by SQL Server.
---
What exactly is Microsoft Power Platform?
Microsoft's Power Platform includes Power BI. This category includes Power BI, PowerApps, and Microsoft Flow. PowerApps' drag-and-drop interface enables anyone to create and launch fully functional, professional apps without having to write a single line of code. To collect and use business data and engage customers, the apps are simple to integrate with Office 365 and Dynamics 365.
Microsoft Flow, a PowerApps-related service, also makes use of the Common Data Service for Apps to assist users in creating automated workflows to handle repetitive administrative tasks.
---
Who are Power BI's main rivals?
Qlik Sense
Tableau
Looker
Amazon QuickSight
IBM Cognos
Elasticsearch
SAS Visual Analytics
Jet Reports
TIBCO Spotfire
MicroStrategy Analytics,
You must learn Power BI Features here.